Air Quality
Cashless Tolling on the Thruway System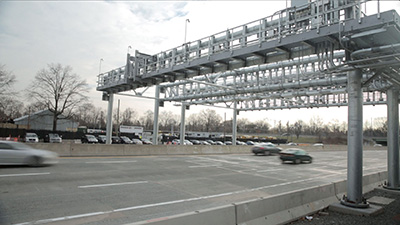 On April 24, 2016, the Thruway Authority implemented cashless tolling, on the Tappan Zee Bridge, now the Gov. Mario M. Cuomo Bridge. A second location followed on March 29, 2018 with the addition of cashless tolling at the Grand Island Bridges. As Governor Cuomo announced, the Thruway Authority will transition to cashless tolling system-wide in 2020. Cashless tolling reduces congestion, improves traffic flow, is better for the environment, and allows for non-stop travel on New York's toll roads, bridges and tunnels.
Additionally, the Harriman Toll Barrier will switch to cashless tolling this fall as part of the New York State Department of Transportation's (NYSDOT) Woodbury Transit and Economic hub, ensuring that motorists driving through this interchange are able to pass through more quickly. The larger NYSDOT project will expand the Route 32 corridor, replace the Route 32 bridge over Route 17, reconfigure the ramp leading to the New York State Thruway (I-87), add a solar-powered bus station, expand the commuter parking lot, and an intelligent transportation system that adapts to changing traffic conditions. Each of these enhancements, including the addition of cashless tolling, will improve access and allow for increased commercial activity. The project is scheduled for completion in 2019. For more information visit: Governor Cuomo Announces Start of Construction for $150 Million Road, Transit & Economic Development Hub in the Town of Woodbury
Green Pass for Hybrids
As part of the Thruway Authority's (Authority) continued commitment to Environmental Stewardship, the Authority offers a Green Pass Discount Plan for E-ZPass customers who own hybrid vehicles. This plan offers a special 10% discount to hybrid vehicles that get at least 45 miles to the gallon and meet certain emissions standards. To find out more information on this program, please visit the Green Pass Discount Plan page.
Highway Speed E-ZPass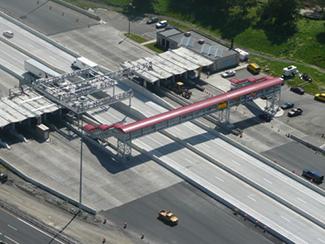 In response to increasing traffic volumes on the Thruway System, the Authority is studying the establishment of Highway Speed E-ZPass lanes at certain toll booths on the System. These lanes allow E-ZPass tag holders to drive through select lanes at the posted highway speeds, paying the toll electronically as they continue to drive. Highway Speed E-ZPass processes more vehicles than manual ticket distribution and collection and allows cars and trucks to move more efficiently through toll plazas. As such, Highway Speed E-ZPass improves air quality by reducing idling and emissions. In addition, it reduces fuel consumption, congestion and travel time.
Currently, Highway Speed E-ZPass lanes are installed at the Spring Valley and Woodbury Toll Barriers.
It is predicted that Highway Speed E-ZPass will eventually service up to 75 percent of traffic passing through a toll plaza during peak travel times.
Protecting Our Environment