Water Quality
Wastewater Treatment Plants | Stormwater Management | SWPPP| MS4s | Connecting Drops Campaign | MS4 Annual Reports
Wastewater Treatment Plants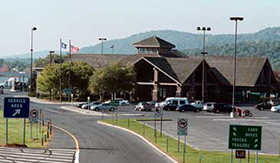 The Thruway Authority (Authority) has 27 service areas across the Thruway System, which provides food and fuel services to the traveling public through contracted vendors.  Wastewater generated from the restaurants and rest rooms is either discharged to municipal wastewater systems in neighboring communities or to one of the Authority's wastewater treatment plants. 
The Authority's wastewater treatment plants are continually maintained, operated and upgraded as necessary to meet New York State Department of Environmental Conservation (NYSDEC) State Discharge Pollution Discharge Elimination System (SPDES) Permit requirements. Authority personnel are licensed by NYSDEC as Wastewater Treatment Plant Operators for proper operation and maintenance of the facilities.  
Additionally, Authority maintenance areas that service highway equipment are equipped with wash bays with oil water separators.  The oil water separators effectively treat wastewater prior to discharging into neighboring community wastewater facilities and/or NYSDEC permitted discharge points.  Oil water separators protect the groundwater and wastewater treatment plants by removing oil that may be generated during vehicle washing and maintenance.
Stormwater Management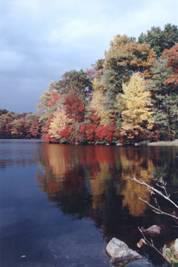 In response to the 1987 Amendments to the Clean Water Act, the U.S. Environmental Protection Agency (EPA) developed the National Pollution Discharge Elimination System (NPDES) Stormwater Program. NPDES addresses sources of stormwater runoff that have the greatest potential to negatively impact water quality including small, medium and large municipal separate storm sewer systems (MS4s) and construction activities that disturb more than one acre of land. These regulations apply to municipalities, as well as to all public entities that own and maintain a separate storm sewer system. To comply with NPDES requirements, NYSDEC issued a general permit for stormwater discharges from MS4s (GP 0-15-003) and for stormwater discharges from construction activities (GP 0-20-001).
Stormwater Pollution Prevention Plans (SWPPP)
A SWPPP is a plan that describes the strategies and steps that will be taken to prevent nonpoint source pollution discharging from a construction site. All capital and maintenance projects that disturb one acre of land or more require the Authority to develop SWPPP.  The SWPPP is the backbone of the construction process as it relates to erosion and sediment control, and stormwater management, both during construction and post construction. The SWPPP includes a description of all construction activity, temporary and permanent erosion and sediment control Best Management Practices, permanent stormwater management, and other pollution prevention techniques to be implemented throughout the life of the construction project. The SWPPP includes a combination of narrative plans and standard detail sheets that address the foreseeable conditions at any stage of construction.
These plans are required by the New York State Department of Conservation as part of their SPDES permit to comply with NPDES.
Municipal Separate Storm Sewer Systems (MS4s)
Stormwater runoff gathers a variety of pollutants, which degrade lakes, rivers, wetlands and other waterways. As a result, stormwater management, especially in urban areas, is becoming a necessary step to reduce pollution in New York's waterways. Federal regulations require permits for stormwater discharges from Municipal Separate Storm Sewer Systems (MS4s) in urbanized areas; as such, MS4s are required to develop a Stormwater Management Program (SWMP). To comply, New York State Department of Environmental Conservation issued a general permit (GP 0-15-003), which became effective on May 1, 2015. Under this Federal regulation, the Authority is considered a regulated non-traditional MS4.
Service Area Rain Garden
As part of the MS4 program, the Authority constructed a "rain garden" at its Pattersonville Service Area.  A rain garden is a shallow depression, planted with specific plants, where stormwater is directed.  The stormwater is treated by soil infiltration and plant root uptake.  In these areas the stormwater temporarily ponds, but infiltrates the ground before mosquitoes get a chance to breed. 
A rain garden is an example of "Green Infrastructure".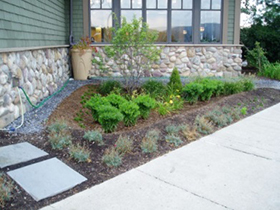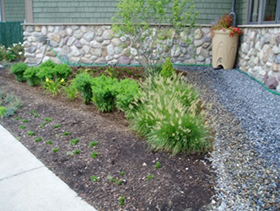 Stormwater Management Program
The Authority recognizes the importance of environmental stewardship and has taken a proactive approach to pollution prevention.  In support of these efforts, the Authority developed and implemented a statewide stormwater management program, the framework of which was submitted to the New York State Department of Environmental Conservation (NYSDEC) in March 2003 for compliance with the State's General Permit.
The Authority's non-traditional MS4 program includes the following minimum control items:
Public Education and Outreach
Public Participation and Involvement
Illicit Discharge Detection and Elimination
Construction Site Stormwater Runoff Control
Post-Construction Stormwater Management
Pollution Prevention/Good Housekeeping for Municipal Operations
The Authority continues to evaluate facilities and operations, develop standard operating procedures and best management practices for high-risk activities. 
Connecting the Drops Campaign
What's Being Done To Protect And Promote Clean Water?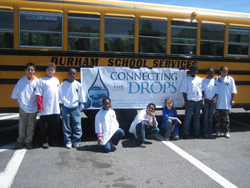 The Authority works diligently to ensure appropriate pollution preventions mechanisms are in place. The Authority's Stormwater Management Program (SWMP) includes educating staff, evaluating and updating policy, implementing Best Management Practices (BMPs), inspecting stormwater outfalls for signs of illicit discharges, evaluating facilities and operations, and public outreach and education.  Several components of the Authority's SWMP are listed below:
Public Outreach – The Authority developed a public participation and education campaign called "Connecting the Drops." The stormwater slogan and logo have been incorporated into the Authority's educational brochures, posters, website, and other stormwater and environmental material. The "Connecting the Drops" campaign includes collaboration with various agencies to educate the public about pollution prevention and provide information about the Authority's stormwater management program and other environmental stewardship initiatives.
Maintenance Directives – Established Authority Maintenance Directives (MDs) prohibit illicit discharges that could occur within the Authority's MS4 as a result of maintenance and operation activities. The Authority Division Environmental staff visit and evaluate Authority operations for environmental compliance and perform an annual State Agency Environmental Audit. If an illicit discharge occurs at an Authority facility, the problem is corrected and follow-up actions are implemented. For illicit discharges found off the Thruway right-of-way, the Authority notifies the appropriate agency.
Stormwater Outfall Mapping and Inspections – The Authority inspects all stormwater outfalls within the highway right-of-way that are in the NYSDEC designated urbanized areas. Inspections are performed at all Authority facilities that have the potential to pollute stormwater based on the equipment located on the site or the operations that are performed there. More than 1,100 outfalls are surveyed, inspected, and mapped in GIS. The Authority also inspects large diameter culverts for hydraulic and structural condition and has incorporated stormwater inspections into their program. The Authority's environmental staff revisits all outfalls that show some evidence of an illicit discharge and will implement appropriate remedial actions if an illicit discharge is determined to exist.
Employee Education and Training - During the first year of the MS4 program, extensive Statewide stormwater management training was provided to Authority employees involved with the design, construction, and maintenance of facilities. General awareness training was conducted by the Environmental Services Bureau, for employees in all Authority Divisions, including managers, supervisors, engineers, and technicians. More detailed training on the permit requirements and how they affect operations was provided for designers, environmental specialists, managers, supervisors, and maintenance managers. In addition, training on the requirements of the new General Permit was provided to educate Authority employees, and Post Construction Stormwater Control training was conducted to educate staff on the inspection and maintenance of permanent stormwater controls. Training programs are conducted on an annual basis for Authority employees.
Facility Evaluation and Prioritization – Authority facilities, including storage areas, toll plazas, service areas and maintenance facilities, have been evaluated to ensure the new stormwater permit requirements were fully integrated into the Authority's BMPs. A representative sample of these facilities was visited across the State to review operations and assess the potential environmental impacts that such activities may have on the stormwater discharges. Operations that were evaluated included pesticide storage and application, vehicle maintenance, bridge maintenance, highway maintenance activities, right-of-way mowing, fueling operations, restaurant facilities, chemical and petroleum storage, wastewater treatment operations, and material storage. BMPs were developed to assist in protecting clean waters. Facilities were also evaluated based on their potential to discharge a contaminant of concern to an impaired waterbody. Evaluations included 303(d) impaired waterbodies and those facilities that discharge to a Total Maximum Daily Load watershed. BMPs and Standard Operating Procedures have been developed to continue to protect these waters.
Review and Update Existing Policies and Procedures – The Authority continually reviews existing control mechanisms to clearly define the roles and responsibilities of involved parties with regard to the protection of stormwater quality and adequate training and oversight. The initial review and modification of existing control mechanisms has been completed, however this will be an ongoing process as the Permit evolves and control mechanisms are improved upon.
Stormwater Management Program Plan - The Authority developed a Stormwater Management Program (SWMP) Plan, which includes detailed written explanations of all management practices, activities and other techniques, to document developed, planned, and implemented stormwater management elements.
Connecting the Drops Materials
Public Comment Period
MS4 Annual Reports
As part of the Authority's SWMPs, annual reports are developed to summarize activities completed each year.
*The files below are in PDF
format unless otherwise noted.
Comments should be directed to:
New York State Thruway Authority
Office of Transportation Planning and Environmental Services
Bureau of Environmental Services
200 Southern Blvd.
Albany, NY 12209
(518) 436-3190
Comments:
ms4artwy@thruway.ny.gov
Hardcopies of the Authority MS4 Annual Reports are available at the following locations:
New York Division
4 Executive Blvd.
Suffern, NY 10901
845-918-2500 Albany Division
200 Southern Blvd.
Albany, NY 12209
518-436-2999 Syracuse Division
Suite 250 2nd Floor
290 Elwood Davis Road
Liverpool, NY 13088-2104
315-437-2741 Buffalo Division
455 Cayuga Road
Suite 800
Cheektowaga, NY 14225-1309
716-631-9017


Protecting Our Environment