Air Quality
Cashless Tolling on the Thruway System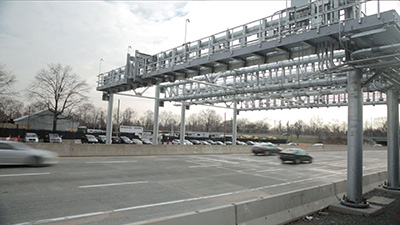 Cashless tolling reduces congestion, improves traffic flow, is better for the environment, and allows for non-stop travel on New York's toll roads, bridges and tunnels. The conversion to cashless tolling is expected to save each commuter approximately 200 minutes annually.
On April 24, 2016, the Thruway Authority implemented cashless tolling on the former Tappan Zee Bridge, now known as the Governor Mario M. Cuomo Bridge. A second and third location followed on March 29, 2018 with the addition of cashless tolling at the Grand Island Bridges, and the Harriman Toll Barrier converted to cashless tolling on September 28, 2018, which complements the $150 million reconstruction of the Woodbury Transit and Economic Hub. On November 16, 2018, the Yonkers Toll Barrier converted to cashless tolling, and on December 20, 2018, the New Rochelle and Spring Valley Toll Barriers transitioned to the system. These four toll barriers represent 22 percent of total traffic volume on the Thruway system.
The Thruway Authority converted to cashless tolling system-wide on November 13, 2020.
Green Pass for Hybrids
As part of the Thruway Authority's (Authority) continued commitment to Environmental Stewardship, the Authority offers a Green Pass Discount Plan for E-ZPass customers who own hybrid vehicles. This plan offers a special 10% discount to hybrid vehicles that get at least 45 miles to the gallon and meet certain emissions standards. To find out more information on this program, please visit the Green Pass Discount Plan page.
Protecting Our Environment