Traffic Noise
Traffic Noise Policy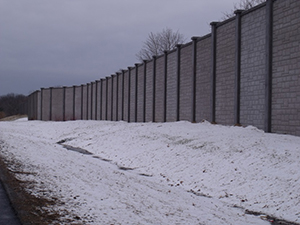 The Thruway Authority (Authority) follows the Federal Procedure for Abatement of Highway Traffic and Construction Noise, 23 CFR 772, and the New York State Department of Transportation (NYSDOT) Noise Analysis Policy, which describe three different types of noise abatement projects. A Type I project is considered for the construction of a new highway, auxiliary lanes, interchanges and ramps, or substantial alteration to rest areas, toll facilities, or existing highway. For Type I projects, a noise analysis is conducted and noise abatement may be considered in accordance with Federal procedures and the NYSDOT Noise Analysis Policy. A Type II project is a proposed highway project for noise abatement on an existing highway, commonly called a "retrofit" noise abatement project. The development and implementation of Type II highway noise abatement projects are not mandated by either Federal regulation or State policy. Type III projects are those projects which do not warrant a noise analysis or consideration of noise abatement such as construction of bicycle trails or pavement of a road surface.
For more information on the New York State Department of Transportation's Noise Policy please visit:
https://www.dot.ny.gov/divisions/engineering/environmental-analysis/manuals-and-guidance/epm
For more information on highway traffic noise or land use planning activities, visit the Federal Highway Administration's website.
Protecting Our Environment