Service Area Redesign and Redevelopment Project

Project Information
The New York State Thruway Authority's 27 service areas are being redeveloped as part of a $450 million private investment plan with Empire State Thruway Partners. Construction is underway on 13 service areas and 11 service areas have reopened:
Indian Castle
Chittenango
Junius Ponds
Iroquois
Clifton Springs
Plattekill
Ardsley
Clarence
New Baltimore
Pembroke
Seneca
When the project is completed, 23 of the 27 service area restaurant buildings will be rebuilt, with significant renovations and upgrades to the remaining four. Other amenities will include Taste NY markets, modern restaurant concepts, outdoor seating, food trucks, playgrounds, and pet walking areas, among other things.
MWBE/SDVOB opportunities - Service Area Project
Contact us and include your Capabilities and Commodity Codes in the comments section
Service Area Levels – A Variety of Sizes Planned

As part of the Service Area Redesign and Redevelopment project, Empire State Thruway Partners planned different levels of service for each service area location based on sales history and traffic data over the last ten years, as well as current services offered to the traveling public and services they'd like to see in the future.
The first three new service areas that opened in 2022 represent some of the smallest locations. When completed, 17 of the Thruway's 27 service areas will be nearly triple the size or larger, compared to the first three locations. Many locations will have significantly larger buildings, greater seating capacity, and larger restroom accommodations. For example, the Pembroke Service Area will be more than 20,000 square feet with six to eight food concepts, as well as commercial trucking services. In comparison, the Junius Ponds Service Area that opened in Oct. 2022 is 5,742 square feet with two food concepts and a convenience store.
*Service Area levels can be found on the Project Map within the Information tab or on the text view page.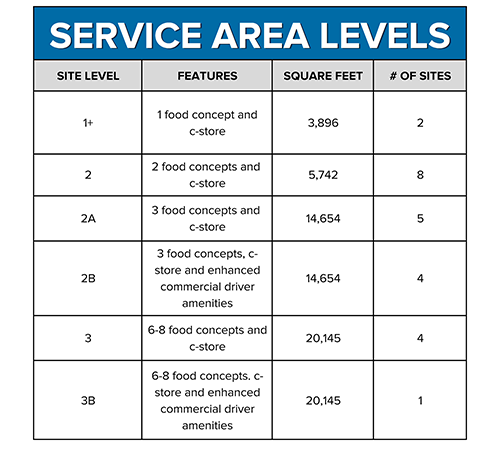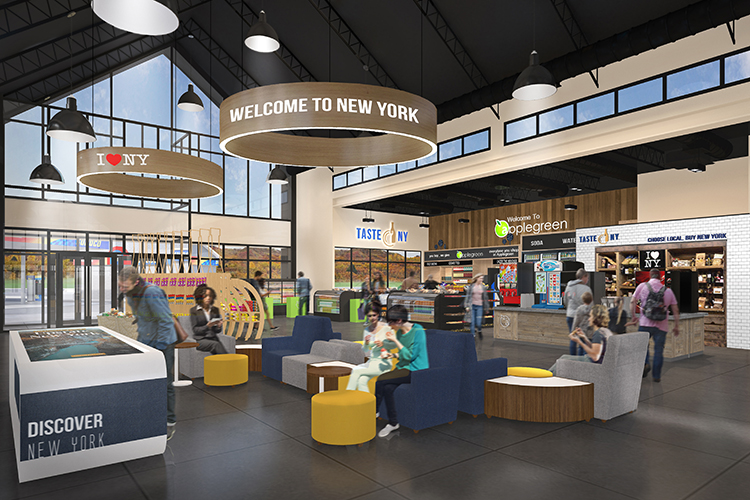 Service Areas
*Fuel services will remain available during construction at all Service Areas