Replacement of the North Avenue Bridge Over I-95 in New Rochelle
Project Background
This project will replace the North Avenue bridge in the city of New Rochelle. The bridge is located above a section of the New England Thruway (I-95). Approximately 20,000 vehicles use the North Avenue bridge daily.
The existing North Avenue bridge, which has been in service since 1958 and has a lower vertical clearance, has a history of impact damage as well as continued deterioration due to age, wear, and harsh winter conditions. This replacement project is necessary to address structural and operational needs, along with enhancing safety and improving mobility for motorists as well as pedestrians at this critical intersection.
Working closely with the city of New Rochelle, Thruway Authority engineers determined the project should be completed in three stages to maintain access to the heart of the city. Stage 1 will consist of vehicles relocated to the center of the existing bridge so its outermost components can be removed. It will also include the construction of new substructures, erection of steel and placement of concrete decks. Stage 2 will move vehicles to the new outer bridge sections so the remainder of the old bridge can be removed and rebuilt. Stage 3 will move vehicles to the center of the new bridge so sidewalks, paving and other work can be completed.
The project began in January 2023 and is anticipated to be substantially completed in Fall 2025.
Project Improvements
Major components of this project include:
Building a wider structure to accommodate a dedicated North Avenue southbound left turn lane onto Garden Street
Raising the bridge's vertical clearance over I-95 to 16' 6''
Converting Burling Lane to one-way from North Avenue to Memorial Highway (westbound traffic only)
Improving traffic flow on Garden Street
Installing decorative lighting and fencing, and other architectural treatments given the prominent location in the downtown corridor
Completing the Burling Lane Park, including an ADA compliant ramp to access the pedestrian walkway over I-95 to the Metro-North train station
Rebuilding sidewalks and adding benches to both sides of the bridge
Project Construction (see maps below)
During construction, motorists and residents should expect the following:
Northbound and southbound lanes on North Avenue will be limited to one lane in each direction
Burling Lane between May Street and North Avenue will be closed for the duration of the project
First responders, buses and articulated buses, and delivery trucks with three axles or less will continue to have access to the bridge at all times
Due to space constraints, vehicles with more than three axles will not be allowed through the construction zone; a truck detour is provided
Left turns from North Avenue to Garden Street will be prohibited; a detour will be provided utilizing Lockwood Avenue to Memorial Highway
Left turns from Garden Street to North Avenue will be prohibited; a detour will be provided utilizing Cedar Street to Huguenot Street
Pedestrian traffic will be maintained throughout the project using the existing walkway over I-95 connecting at Burling Lane and the train station.
The majority of construction will take place during the day; overhead work such as bridge deck and steel removal that requires highway lane closures will occur at night for the safety of workers and to limit impacts to traffic.
Project Maps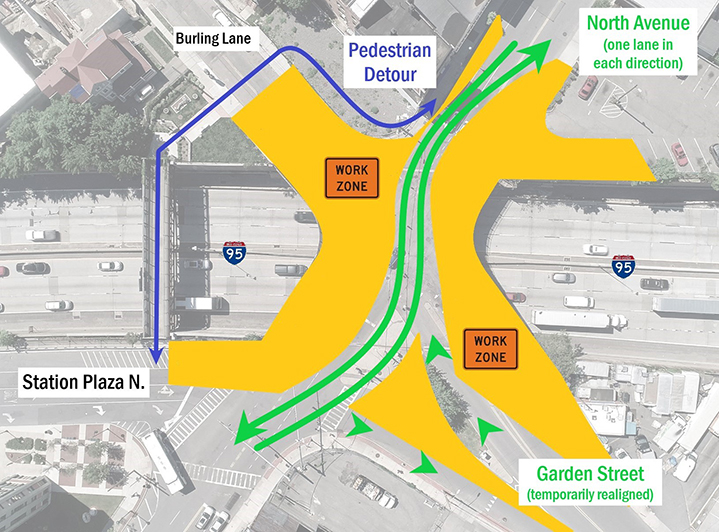 STAGE 1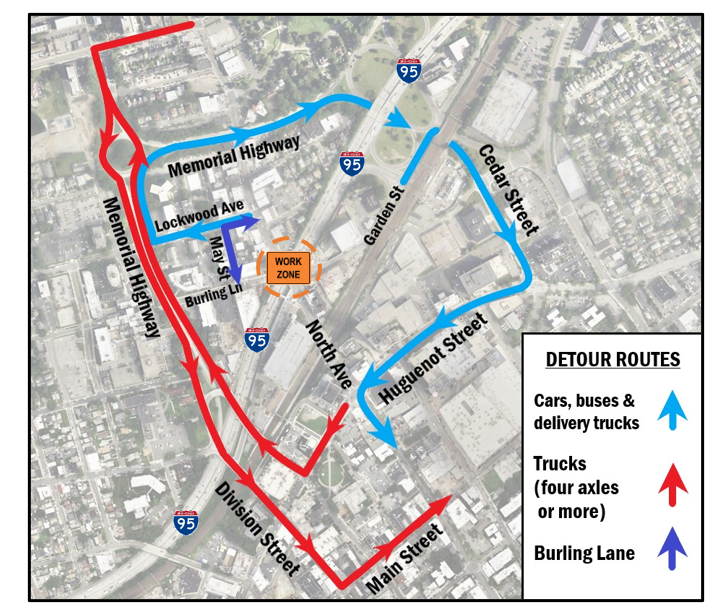 Project Gallery

Rendering of North Avenue Bridge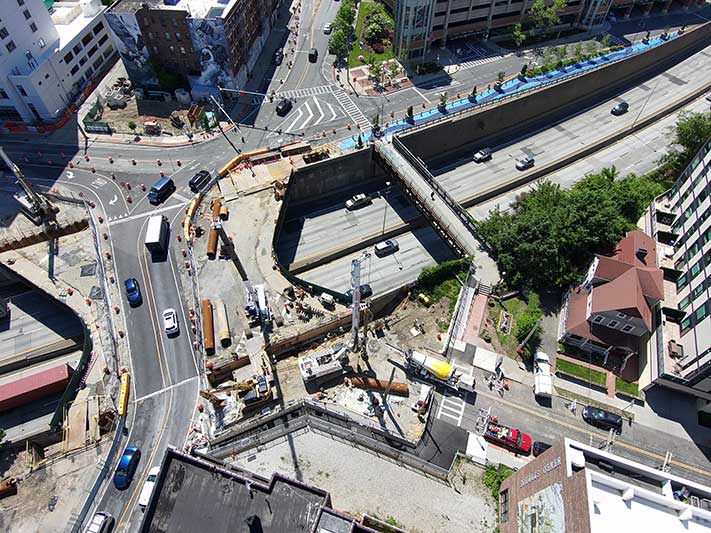 May 2023
Our System
Capital Program
Projects Map