For Immediate Release: 1/12/23
Contact: Office of Media Relations and Communications | (518) 471-5300 | public.info@thruway.ny.gov  
THRUWAY AUTHORITY ANNOUNCES START OF $31.8 MILLION BRIDGE REPLACEMENT PROJECT OVER I-95 IN WESTCHESTER COUNTY
North Avenue Bridge in New Rochelle Will Be Wider and Improve Traffic Flow in Area
Bridge's Vertical Clearance Will Be Raised to Modern Standards
Work Scheduled to Be Completed in Stages Over Three Years
Bridge Will Remain Open to Traffic Throughout Construction
The New York State Thruway Authority today announced the start of a $31.8 million bridge replacement project over the New England Thruway (I-95) in the city of New Rochelle in Westchester County. A modern span will replace the 65-year-old North Avenue bridge, while maintaining access to the city's downtown during construction. The bridge will remain open to traffic throughout construction by utilizing lane reductions. The new bridge will be wider, improve traffic flow on nearby roads, and have a higher vertical clearance over I-95. The project is anticipated to last three years and be substantially completed in 2025.
Major improvements include:
Raising the bridge's vertical clearance over I-95 to 16' 6'' from the current height of 14' 3"
Adding a dedicated lane on southbound North Avenue to turn left onto Garden Street
Improving traffic flow on Garden Street
Converting Burling Lane to one-way from North Avenue to Memorial Highway (westbound traffic only)
Rebuilding sidewalks and adding benches to both sides of the bridge
Installing decorative lighting and fencing, and other architectural treatments given the prominent location in the downtown corridor
Working closely with New Rochelle officials, Thruway Authority engineers determined the project should be completed in three stages to maintain access to the heart of the city while minimizing possible impacts to local residents, businesses, and motorists. Used by an average of 20,000 motorists every day, the four-lane bridge connects North Avenue, Garden Street, and Burling Lane; replacing it in stages will allow motorists and pedestrians to safely access the crossing throughout construction.
"The Thruway Authority remains dedicated to investing and modernizing its infrastructure across our 570-mile superhighway system," Thruway Authority Interim Executive Director Frank G. Hoare said. "We receive no federal or state tax money and work hard to ensure our toll dollars are spent strategically on critical projects like the replacement of the North Avenue bridge. Our team collaborated with New Rochelle on this vital connection to ensure it better serves those who live, work, and operate businesses in the city for decades to come."
Here is the construction plan:
Stage 1 will consist of moving vehicles to two lanes in the center of the existing bridge so its outermost components can be removed. It will also include the construction of new substructures, erection of steel and placement of concrete decks.
Stage 2 will move vehicles to two lanes on the new outer bridge sections so the remainder of the old bridge can be removed and rebuilt.
Stage 3 will move vehicles to the center of the new five-lane bridge so sidewalks, paving, decorative lighting, and other work can be completed. Burling Lane will be converted to a one-way road for westbound traffic during this stage.
The majority of construction will take place during the day; overhead work such as bridge deck and steel removal that requires highway lane closures will occur at night for the safety of workers and to limit impacts to traffic.
Motorists should allow for extra time when lane reductions on North Avenue take effect. Full closures are not anticipated.
Preliminary work in the area has begun. Construction is expected to start in the coming weeks and notice will be provided in advance of any changes affecting traffic patterns and pedestrian access.
During construction, motorists and residents should expect the following:
Burling Lane between North Avenue and May Street is scheduled to close on Wednesday, Jan. 18, and will remain closed for the duration of the project.
Northbound and southbound lanes on North Avenue will be limited to one lane in each direction
First responders, buses and articulated buses, and delivery trucks with three axles or less will continue to have access to the bridge at all times
Due to space constraints, vehicles with more than three axles will not be allowed through the construction zone; a truck detour is provided.
Left turns from North Avenue to Garden Street will be prohibited; a detour will be provided utilizing Lockwood Avenue to Memorial Highway
Left turns from Garden Street to North Avenue will be prohibited; a detour will be provided utilizing Cedar Street to Huguenot Street
Pedestrian traffic will be maintained throughout the project using the existing walkway over I-95 connecting at Burling Lane and the train station.
All local businesses will remain accessible throughout project.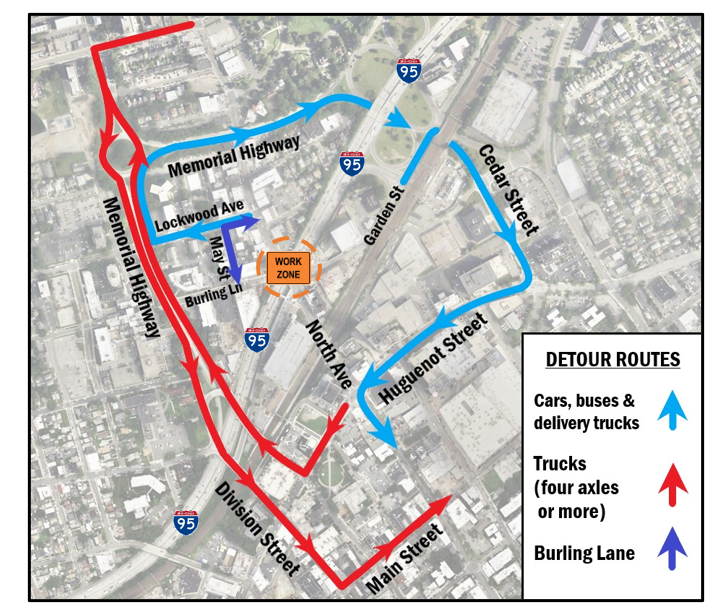 J. D'Annunzio & Sons, Inc., is the project contractor following a competitive bidding process.
Digital message boards have been placed around the work zone to advise motorists and pedestrians about construction work. Physical signs have also been installed at the construction site and in the vicinity to alert motorists and pedestrians about the various detours.
For additional project information and maps, visit the project page on the Thruway Authority's website.The page will be regularly updated.
Motorists may encounter lane closures on the New England Thruway along with traffic shifts and stoppages while construction is underway. Motorists should follow the posted work zone speed limits and are reminded that fines are doubled for speeding in a work zone. In accordance with the Work Zone Safety Act of 2005, convictions of two or more speeding violations in a work zone could result in the suspension of an individual's driver license.
Thruway travelers are encouraged to visit thruway.ny.gov for real-time traffic updates.  
Motorists can also download the Thruway Authority's free mobile-app and sign up for TRANSalerts for traffic information.  
###