For Immediate Release: 3/6/23                                                                                                                                                                                 
Contact: Office of Media Relations and Communications | (518) 471-5300 | public.info@thruway.ny.gov  
TRAVEL ADVISORY: NEW TRAFFIC PATTERN SET TO TAKE EFFECT ON NORTH AVENUE BRIDGE IN NEW ROCHELLE ON WEDNESDAY, MARCH 8
Traffic on North Avenue Bridge to Be Reduced to One Travel Lane in Each Direction
Trucks with Four or More Axles Are Required Follow Posted Detour
Pedestrian/Bicycle Detour Will Utilize Existing Walkway Over I-95
Lane Reduction Kicks Off Stage 1 of the $31.8 Million Bridge Replacement Project
The New York State Thruway Authority today announced a new traffic pattern is set to take effect on Wednesday, March 8, at the North Avenue bridge over the New England Thruway (I-95) in the city of New Rochelle in Westchester County, representing the start of Stage 1 of the three-year project.
To allow for the outer portions of the existing bridge to removed and replaced (see graphic below), the new traffic pattern will allow cars, buses, and other vehicles with three axles or less to use two lanes in the center of the bridge (one in each direction). First responders will have access to the bridge at all times.
In addition, left turns from North Avenue to Garden Street will be prohibited, as will left turns from Garden Street to North Avenue (see second graphic below). Motorists should follow the posted detours, allow for extra time due to the new lane reductions or consider taking alternate routes.
Due to space constraints, trucks with four or more axles will not be able to travel through the construction zone; a signed truck detour has been provided.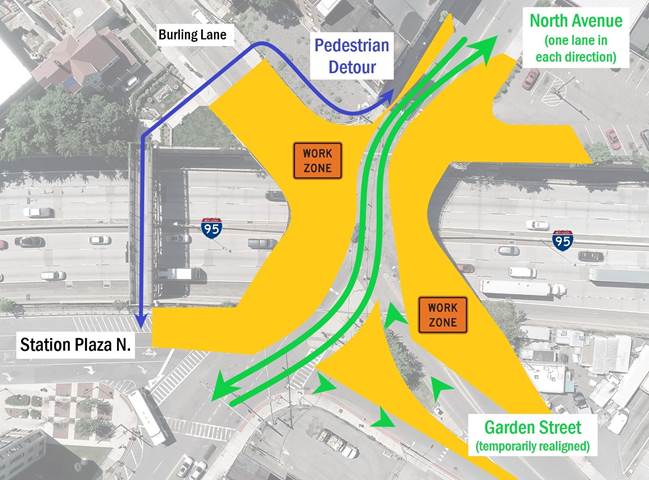 In summary, here's what motorists and residents should expect during Stage 1:
First responders, cars, buses, delivery trucks, and vehicles with three axles or less have access to the bridge at all times.
Left turns from North Avenue to Garden Street are prohibited; a detour is provided utilizing Lockwood Avenue to Memorial Highway.
Left turns from Garden Street to North Avenue are prohibited; a detour is provided utilizing Cedar Street to Huguenot Street.
Due to space constraints, vehicles with more than three axles are not allowed through the construction zone; a truck detour is provided.
Burling Lane between North Avenue and May Street is closed for the duration of the project.
The left-turn lane on Station Plaza North is part of the work zone; two lanes remain open to traffic and motorists can continue to turn left onto North Avenue.
Pedestrian/bicycle traffic will use the walkway over I-95 connecting at Burling Lane and the train station throughout the project.
All local businesses remain accessible.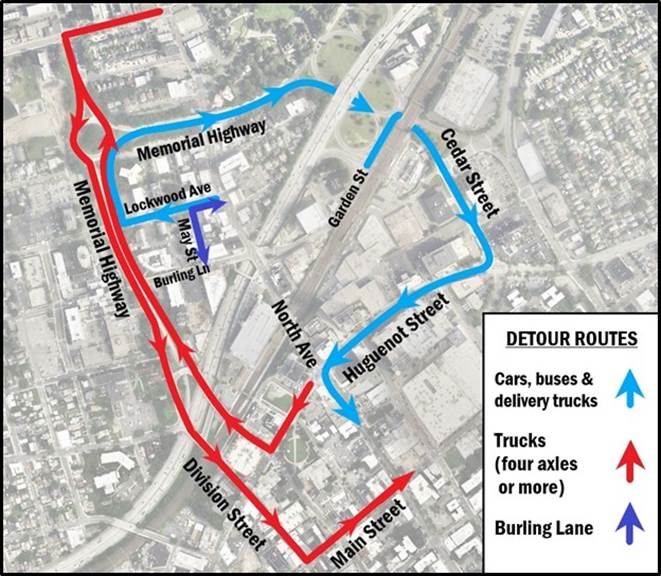 Working closely with New Rochelle officials, Thruway Authority engineers determined the replacement of the North Avenue bridge should be completed in three stages to maintain access to the heart of the city while minimizing possible impacts to local residents, businesses, and motorists. When the project is substantially completed in 2025, the new bridge will be wider, improve traffic flow on nearby roads, and have a higher vertical clearance over I-95. The North Avenue bridge opened in 1958 and connects North Avenue, Garden Street, Burling Lane, and Station Plaza North in this area. Approximately 7.3 million vehicles travel the bridge each year.
Stage 1 of the project will also include the construction of new substructures, erection of steel and placement of concrete decks. Stage 2 will move vehicles to two lanes on the new outer bridge sections so the remainder of the old bridge can be removed and rebuilt, while Stage 3 will move vehicles to the center of the new five-lane bridge so sidewalks, paving, decorative lighting, and other work can be completed. Burling Lane will be converted to a one-way road for westbound traffic during this stage.
The majority of construction will take place during the day; overhead work such as bridge deck and steel removal that require highway lane closures will occur at night for the safety of workers and to limit impacts to traffic.
J. D'Annunzio & Sons, Inc., is the project contractor.
Digital message boards have been placed around the work zone to advise motorists and pedestrians about the project. Physical signs have also been installed in the work zone and in the vicinity to alert motorists and pedestrians about the various detours.
For additional project information and maps, visit the project page on the Thruway Authority's website. The page will be regularly updated.
Motorists may encounter lane closures on the New England Thruway along with traffic shifts and stoppages while construction is underway. Motorists should follow the posted work zone speed limits and are reminded that fines are doubled for speeding in a work zone. In accordance with the Work Zone Safety Act of 2005, convictions of two or more speeding violations in a work zone could result in the suspension of an individual's driver license.
For up-to-date travel information, motorists are encouraged to download the Thruway's mobile app which is available to download for free on iPhone and Android devices. The app provides motorists direct access to real-time traffic information, live traffic cameras and navigation assistance while on the go. Travelers can also visit the Thruway Authority's interactive Traveler Map which features live traffic cameras.
###