Mobile App
The mobile app enables travelers to access the latest road conditions in real-time, including construction and traffic alerts, while remaining hands-free. A safety setting option also utilizes voice announcements for roadway updates while traveling.
Download the app today:
Other Thruway Authority app features include:
Interactive Thruway map with real-time voice notification of upcoming Thruway-specific sites and traffic events;
Toll Calculator to plan your trip;
Report an issue regarding a road condition, safety or services;
Request Roadside assistance;
Restaurant and Thruway Service Area locator; and
E-ZPass and Tolls by Mail information.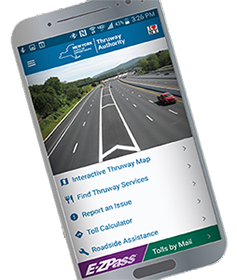 The app also provides links to the I Love NY tourism app, New York State Department of Transportation, New York Department of Motor Vehicles, New York State Department of Homeland Security and Emergency Services - See Something, Say Something, as well as the Thruway Authority website.
Traffic Maps & Alerts
Lost and Found
518-436-2806 ph
518-436-2899 fax