About Thruway Maintenance
The New York State Thruway: Renowned for Safety and Reliability
Hundreds of millions of recreational and business travelers, daily commuters, and commercial vehicles travel billions of miles every year on the New York Thruway's 570-mile superhighway system.
Supported almost entirely by toll revenues - not tax dollars - the Thruway is widely known for safety and reliability, and 2013 and 2014 were the two safest years in our history.
The Thruway's reputation for safety and reliability is based in part on the expertise, hard work and dedication of the approximately 1,300 men and women of Thruway's department of Maintenance and Operations.
Maintenance and Operations is responsible for all of the Thruway's vast infrastructure, including:
2,840 lane-miles of highway
817 bridges
21 maintenance base locations
59 interchanges
27 service areas
11 parking areas
More than 600 variable message signs, traffic cameras, weather information and traffic data monitors and other intelligent transportation elements
4,000 pieces of equipment including plows, loaders, bull dozers, pavers, water trucks and other specialized equipment.
We work hard every day to maintain our infrastructure
Thruway maintenance engineers work every day to ensure the safety of our patrons and the reliability of our extensive system. These engineers ensure that necessary maintenance work is completed, which may entail preventive and corrective measures, repair and rehabilitation or reconstruction.
Major rehabilitation and reconstruction projects are generally managed as part of our system-wide capital program.  A detailed description of the capital program can be found under our capital program section.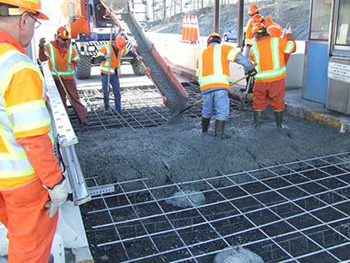 Maintenance activities include:
Repairing pavement and shoulders
Repairing guiderails and other safety elements
Sealing pavement
Repairing bridge piers and abutments
Painting bridges
Keeping bridge bearings in good working order
Clearing debris
Controlling vegetation
Clearing trees and brush and mowing grass
Cleaning and reshaping drainage ditches
Replacing roadway signs
Inspecting and repairing culverts
Our System
Capital Program
Projects Map

For Emergencies
1-800-842-2233
or 911