Employment Opportunities
Service & Repair Mechanic (Motor Equipment)
Download Employment Application

Complete and sign the Employment Application and send to the email address or mailing address below:
recruiter@thruway.ny.gov
P.O. Box 189
Albany, NY 12201-0189

Indicate the area(s) of employment preference (Albany, New York, Syracuse or Buffalo) upon submission of Employment Application.


Duties Description:  As a Service & Repair Mechanic (Motor Equipment) you would: 1) Diagnose and correct the cause of faulty vehicle and equipment operation. 2) Overhaul, adjust and repair gaseous fuel engines, clutches, transmissions, and differentials; ignition, wiring, lighting, fuel, cooling, braking, and complex hydraulic systems; steering, wheel, and suspension mechanisms; and body, cab, and frame components. 3)Conduct NYS inspections. 4) May be assigned to overhaul and rebuild starters, generators, compressors, pumps (fuel, water, air, and hydraulic), spreaders, small engines, mowers, and a variety of other equipment, including but not limited to, track vehicles, loaders (front-end and belt), cranes, shovels, lifts, hydraulic excavators, etc. 5) May diagnose and repair electronic engine control systems, anti-lock brake systems, and air conditioning. 6) May also be required to do cutting and welding. 7) In small shops you may supervise Service and Repair Assistants (motor Equipment), Facility Operations Assistants 1, and others. 8) May be required to make road calls, test drive equipment, complete reports, use parts catalogs, and perform other related duties. At the time of appointment, you are required to furnish a basic tool set.
Competitive Pay and Excellent Benefits: The Thruway Authority offers a competitive salary and benefits package in all parts of the state. The positions below belong to the Teamster's Negotiating Unit and provide employees numerous opportunities to work overtime at a rate of time and a half, particularly during the winter maintenance season. The hourly rates for SRMs range from $19.23 to $26.96 depending on geographic location and commensurate with experience. In addition to competitive pay, we offer excellent benefits, training programs and professional development opportunities to our employees.
Additional Comments: If you meet the minimum qualifications and are interested in any of the areas listed, complete an Employment Application. Preferred Qualifications: experience maintaining and repairing medium or heavy duty diesel powered trucks equipped with air brakes and hydraulic equipment, such as dump body hydraulic circuits, garbage truck roll offs, garbage compactors, wood chippers, front plows or hydraulically operated spreader systems.
Minimum Qualifications: Candidates must be at least 18 years of age and meet the minimum qualifications for appointment as described below:
Four years of experience as an automotive or diesel mechanic responsible for the diagnosis of faulty vehicle and/or equipment operation and the performance of mechanical repairs covering several aspects of automotive and/or equipment operation and the performance of mechanical repairs covering several aspects of automotive and/or diesel systems; OR
An associate's degree in automotive or diesel repair technology. Substitution: Education as detailed below may be substituted for a maximum of two years of experience.
Either:
Graduation from a technical or vocational program, such as B.O.C.E.S, in automotive or diesel technology or automotive or diesel repair technology may be substituted for one year of experience; OR
Graduation from a one-year post high school certificate program in automotive or diesel repair technology may be substituted for up to two years of experience. Experience limited to airplane (aviation) mechanic (except for ground equipment); gas station attendant; the repair of motorcycles, motor boats, or small engines; installation or repair of transmissions, mufflers, brakes, or tires; new car preparation; auto body repair work; or management activities as the owner or supervisor of a repair shop or service station is NOT QUALIFYING; OR Transfer via section 70.1: One year of permanent competitive or 55b/c service as a Service and Repair Mechanic Motor Equipment (formerly Motor Equipment Mechanic). A CDL B license will be required. Candidates applying without a CDL B license are required to obtain a Commercial Driver License permit within 30 days of appointment and a CDL B by the end of probation or will be terminated.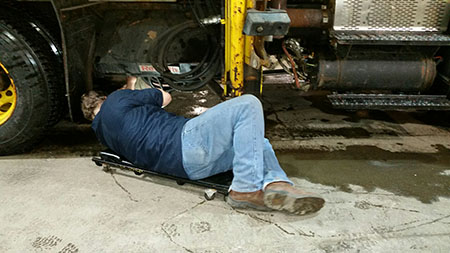 Benefits
Some of the benefits enjoyed by Thruway Authority employees are:
Health Insurance
Prescription Coverage
Dental and Vision Plans
Paid Holidays, Sick, and Vacation Leave
Generous Pension
Deferred Compensation
Tuition Assistance Program
College Savings Program
On-The-Job Training
Pre-tax Programs for Medical Expenses, Child Care and Elder Care
---
Contact Us