Logo Sign Program
What is the Logo Sign Program?
The Thruway Logo Sign Program (TAP-432)
is intended to provide motorists with business identification and directional information for LODGING and CAMPING services and eligible ATTRACTIONS within rural (and rural appearing urban areas) along the Thruway. 
What is a Logo Sign?
Logo Sign Panels:
Logo sign panels are supplied by the business/applicant and are installed by the Thruway onto specific service signs. Trademarks must be federally registered with the US Patent and Trademark Office to be considered for use on a logo sign and artwork must be approved by the Thruway Authority.
Specific Service (Mainline and Ramp) Signs:
Specific service signs have a blue background with a white border and legend. Specific service signs are furnished, installed, and maintained by the Thruway and are located within the Thruway right of way. Specific service signs identify the types of services available at the specified Thruway interchange.
Tourist Oriented Directional (TOD) Signs:
TOD signs are installed along other public highways (crossroads) as necessary to direct motorists from the Thruway ramp to the business referred on the logo sign panel. TOD signs are installed and maintained by the Thruway with authorization from the jurisdictional owner - State, County, or local municipality.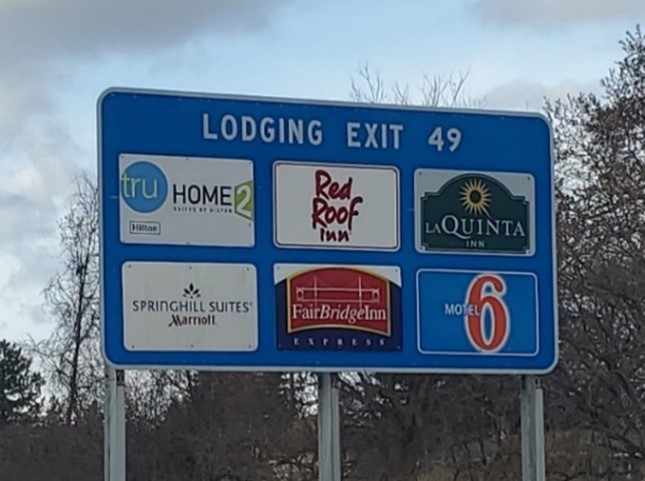 Example of a Specific Service Sign with Six Logo Signs
Does My Business Qualify?
A business qualifies for the sign program if their primary and principal source of revenue is from the services which fall within the categories of "LODGING," "CAMPING," or "ATTRACTIONS" and they meet the criteria set forth in the Thruway's Logo Sign Program Guidelines (TAP-432)
, Manual on Uniform Traffic Control Devices (MUTCD)
and NYS Supplement to the (MUTCD)
.
How much does it cost?
There is an annual permit fee for each qualifying business featured on a specific services sign. The standard annual permit fee of $750 includes two mainline signs (one in each direction) and one ramp sign. TOD signs along state owned roadways will be subjected to an additional annual fee of $50 per sign.
After a business is approved, they will receive a customized quote. Costs associated with fabricating the signs will vary. All signs must be fabricated to NY standard specifications and supplied to the Thruway's Division Maintenance for installation.
Who Do I Contact?
To find out if your business qualifies or if you have any questions about the program, contact the Logo Sign Program Coordinator at logosign@Thruway.ny.gov. 
How Do I Apply?
If you are interested in the Thruway Logo Sign Program and feel your business meets the qualifying criteria, please fill out the application (ta-w4313)
and submit it to logosign@Thruway.ny.gov. All applications are subject to approval by the Thruway Authority. 
NYS Tourism Programs
The Thruway Logo Sign Program also supports businesses that fall under the NYS Tourism Programs – I Love NY, Taste NY, and Path Through History.  If your business falls under one these categories, please note it on your application.
If you would like more information on these programs, please contact the Department of Agriculture at tasteny@agriculture.ny.gov for Taste NY or Empire State Development at info@iloveny.com for the I Love NY and Path Through History programs.   
Doing Business