For Immediate Release: 03/13/20
Contact: Office of Media Relations and Communications | (518) 471-5300 | public.info@thruway.ny.gov
TRAVEL ADVISORY: THRUWAY AUTHORITY ANNOUNCES TEMPORARY CLOSURE OF OLD STATE ROAD BRIDGE TO BEGIN MONDAY, MARCH 23
$3.8 Million Project Includes Bridge Replacement and Safety Upgrades Including Higher Clearance for Highway Traffic and Widened Bridge Shoulders
During Construction, Old State Road Will Be Closed to All Traffic Between Kings Ct. and Oak Tree Ln. Until the End of November
Detours Are Posted and Can Be Viewed HERE
The New York State Thruway Authority today announced construction on the $3.8 million bridge replacement project of the Old State Road Bridge over the Thruway (I-90) in Albany County will begin in the early morning hours of Monday, Mar. 23. The bridge located between exit 24 (Albany – I-87) and exit 25 (Schenectady – I-890) has been subject to numerous over height truck hits over the past several years which has caused traffic disruptions on the Thruway mainline.
To accommodate the bridge replacement, Old State Road is scheduled to be closed to all traffic during construction from Kings Ct. and Oak Tree Ln. It is scheduled to be completed by the end of November.
"Local overpasses, like the Old State Road Bridge, are essential lifelines for local communities and are relied upon to grow and strengthen our diverse regions," Thruway Authority Executive Director Matthew J. Driscoll said. "The Thruway Authority is committed to reinvesting toll dollars wisely to replace aging infrastructure for the safety of the traveling public, and when completed this bridge will bolster the safety and reliability for the local traffic and the highway traffic traveling below."
Built in 1955, the Old State Road Bridge is original to the Thruway system. When completed, the new bridge will have increased clearance to 16.5 feet for traffic traveling on the NYS Thruway (I-90). The project also includes the reconstruction of the approach on both sides of the Old State Road Bridge, wider travel lanes and shoulders. The existing bridge carries approximately 5,300 vehicles per day.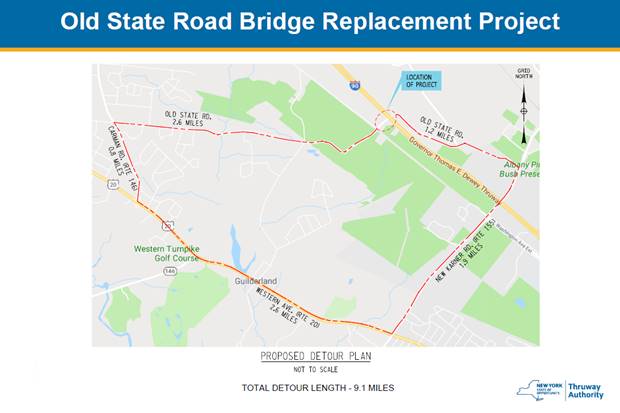 Variable Message Signs will advise motorists of the bridge closure and detours. The work and closure is weather dependent and subject to change.
During construction, lane closures may take place during off-peak times on the Thruway mainline (I-90) east and west between exit 24 and exit 25, but traffic disruptions are expected to be kept at a minimum. A complete list of scheduled lane closures can be found at thruway.ny.gov.
For up-to-date travel information, motorists are encouraged to download its mobile app which is available to download for free on iPhone and Android devices. The app provides motorists direct access to real-time traffic and navigation assistance while on the go. Travelers can also visit the Thruway Authority's interactive Traveler Map.
Motorists can also sign up for TRANSalert e-mails, which provide the latest traffic conditions along the Thruway, here. For real-time updates, motorists can follow @ThruwayTraffic on Twitter or visit www.thruway.ny.gov to see an interactive map showing traffic conditions for the Thruway and other New York State roadways.
###
The Thruway is scheduled to convert to an entirely cashless tolling system by the end of 2020. For more information and project updates, go to thruway.ny.gov/cashless.
Download the new NYS Thruway Authority mobile app which includes: real-time, Thruway-specific traffic and navigation assistance, Thruway Service Area locator, toll calculator, roadside assistance and more. Download the free app to your iPhone and Android devices TODAY!
Motorists can sign up for TRANSAlert emails regarding Thruway traffic conditions at http://wwwapps.thruway.ny.gov/tas/.
Follow us on Twitter @ThruwayTraffic and @NYSThruway
Like us on Facebook at NYS Thruway Authority
subject to the State Administrative Procedure Act (SAPA), the Public Authorities Law, and the State Environmental Quality Review Act. Public hearings for SAPA will be conducted in 2020.