For Immediate Release: 04/04/23
Contact: Office of Media Relations and Communications | (518) 471-5300 | public.info@thruway.ny.gov
THRUWAY AUTHORITY ANNOUNCES $4.6 MILLION BRIDGE REPLACEMENT PROJECT OVER I-90 IN MADISON COUNTY
Replacement of North Main Street Bridge Part of Thruway's Investment to Address Aging Infrastructure
New Bridge Will Include Upgraded Safety Features and Increased Vertical Clearance
Existing Bridge Will Be Closed in April for Duration of Project; Detour In Place
The New York State Thruway Authority today announced the start of a $4.6 million bridge replacement project over I-90 in Madison County. The North Main Street Bridge (milepost 262.01) located in the village of Canastota will be replaced with a modern structure. The existing bridge was built in 1953 and is one of dozens of bridges more than 60 years old on the Thruway that need to be replaced. Approximately 1,000 motorists use the bridge daily.
"The North Main Street Bridge is 70 years old and original to the Thruway," Thruway Authority Interim Executive Director Frank Hoare said. "By reinvesting toll dollars into our roadway, we are addressing aging infrastructure needs that are critical to maintaining a safe and reliable roadway for generations to come."
The new bridge will feature wider travel lanes and emergency shoulders, increased vertical clearance from 15'3" to 16'6", new guiderail and a new riding surface.
Beginning April 10, the North Main Street Bridge will be closed to traffic for the duration of the project.
A five-mile detour will be in place. Motorists can take North Main Street to State Route 5, to Pine Ridge Road and Lewis Point Road to connect with State Route 13. State Route 13 crosses the Thruway and leads into the village of Canastota. Variable Message Signs will advise motorists of the construction work and detour information.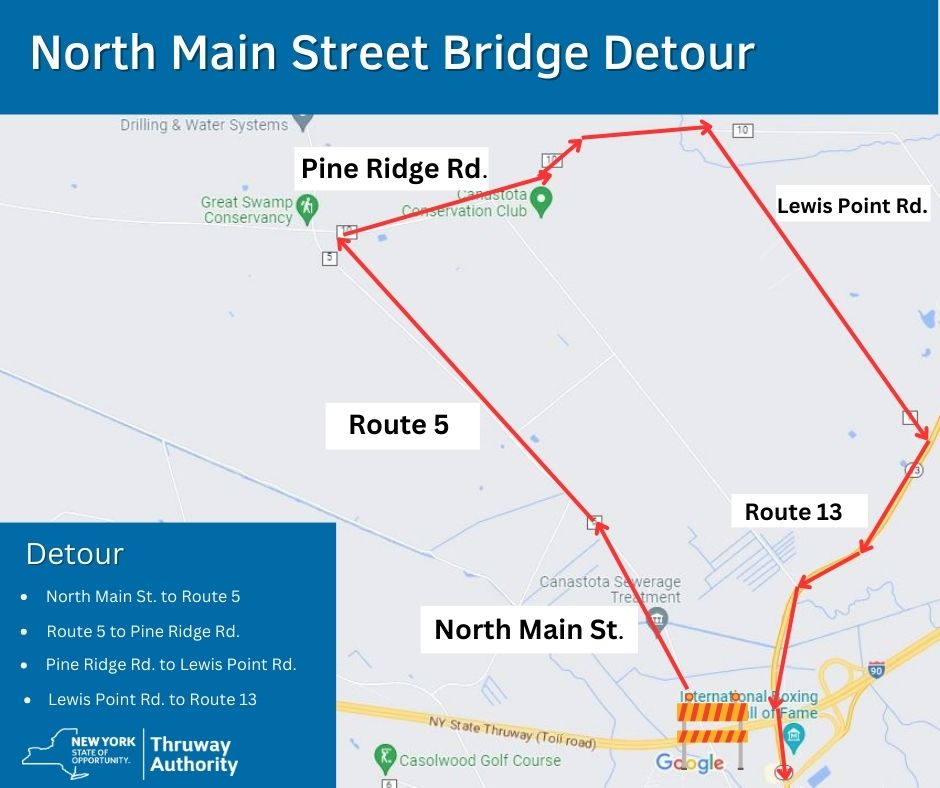 Tioga Construction Company, Inc. of Herkimer, NY is the contractor for the project. Construction is expected to be complete in Fall 2023. The work is weather dependent, and dates are subject to change.
Motorists are reminded that in New York State, fines are doubled for speeding in a work zone. In accordance with the Work Zone Safety Act of 2005, convictions of two or more speeding violations in a work zone could result in the suspension of an individual's driver license.
For up-to-date travel information, motorists are encouraged to download the Thruway Authority's mobile app which is available to download for free on iPhone and Android devices. The app provides motorists direct access to real-time traffic and navigation assistance on the go.
Travelers can also visit the Thruway Authority's interactive Traveler Map for real-time traffic updates and sign up for TRANSalerts for traffic information.
###