For Immediate Release: 06/01/22
Contact: Office of Media Relations and Communications
(518) 471 5300 | public.info@thruway.ny.gov
THRUWAY AUTHORITY ANNOUNCES START OF CONSTRUCTION ON $4.7 MILLION BRIDGE REPLACEMENT PROJECT OVER I-90 IN ONONDAGA COUNTY
Canton Street Bridge in the Town of Warners Now Closed for Replacement
New Bridge Will Have Increased Vertical Clearance, Wider Travel Lanes and Shoulders and Other Safety Upgrades
Detour in Place for Duration of Project
The New York State Thruway Authority today announced construction is underway on a $4.7 million bridge replacement project over I-90 in Onondaga County. The Canton Street Bridge (mile post 292.06) will be replaced with a modern structure. The existing bridge was built in 1954 and carries approximately 2,000 vehicles per day.
"After feedback from residents and meeting with local leaders, the Thruway Authority decided to move forward with replacing the Canton Street Bridge this spring." Thruway Authority Executive Director Matthew J. Driscoll said. "When this project is complete, motorists will be traveling over a safer and more reliable bridge to meet their local transportation needs."
Beginning today, the Canton Street bridge is closed to traffic for the duration of the project. Work is expected to be complete in spring 2023. The work is weather dependent, and dates are subject to change.
A 1.2 mile detour will be in place for motorists to use the Warners-Iona bridge. Variable Message Signs (VMS) are illuminated to alert motorists of the closure and detour.
The detour recommends motorists take Canton Street to Warners Road, to the Warners-Iona bridge over I-90, then Brickyard Road to Canton Street.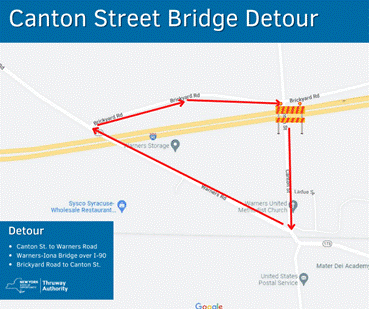 The new bridge will enhance the overall safety for traffic both on the Thruway and the local road including increased vertical clearance to meet current engineering standards, new guiderail, reflective line striping, and it will maintain pedestrian access.
Slate Hill Constructors, Inc. of Warners, NY is the contractor for the project.
During construction motorists may encounter lane closures on the Thruway along with traffic shifts and stoppages. 
Motorists are reminded that in New York State, fines are doubled for speeding in a work zone. In accordance with the Work Zone Safety Act of 2005, convictions of two or more speeding violations in a work zone could result in the suspension of an individual's driver license.
For up-to-date travel information, motorists are encouraged to download its mobile app which is available to download for free on iPhone and Android devices. The app provides motorists direct access to real-time traffic and navigation assistance while on the go.
Travelers can also visit the Thruway Authority's interactive Traveler Map which features live traffic cameras. Motorists can also sign up for TRANSalert e-mails, which provide the latest traffic conditions along the Thruway.
###
Download the NYS Thruway Authority mobile app which includes live traffic cameras, real-time, Thruway-specific traffic and navigation assistance, Thruway Service Area locator, toll calculator, roadside assistance and more. Download the free app to your iPhone and Android devices TODAY! 

Motorists can sign up for TRANSalert emails regarding Thruway traffic conditions at thruway.ny.gov. 

Follow us on Twitter @ThruwayTraffic and @NYSThruway 

Like us on Facebook at NYS Thruway Authority