For Immediate Release: 05/03/22     
Contact: Office of Media Relations and Communications | (518) 471 5300 | public.info@thruway.ny.gov   
THRUWAY AUTHORITY ANNOUNCES START OF $5.2 MILLION BRIDGE REPLACEMENT PROJECT IN ONEIDA COUNTY
Judd Road Bridge Over I-90 in Town of Whitestown Will Close May 9 for Replacement Project
New Structure Will Have Increased Vertical Clearance and Other Safety Upgrades
Detour Will Be In Place for Motorists for Duration of Project

The New York State Thruway Authority today announced the start of a $5.2 million bridge replacement project in Oneida County. The Judd Road bridge over I-90 (mile post 240.48) in the Town of Whitestown will be replaced with a modern structure.
"Replacing aging infrastructure is a priority at the Thruway Authority to keep motorists safe and provide modern upgrades to new structure," Thruway Authority Executive Director Matthew J. Driscoll said. "We are committed to investing in vital infrastructure projects across our system, and will continue to rehabilitate and replace bridges as part of our capital program."
Beginning May 9, the Judd Road bridge will be closed to traffic for the duration of the project.
Detour information is posted on signage in the area alerting motorists of the bridge closure and detour route.
The detour recommends motorists use Halsey Road/Stone Road, Route 233 and the Route 233 bridge to Sutliff Road to return to Judd Road.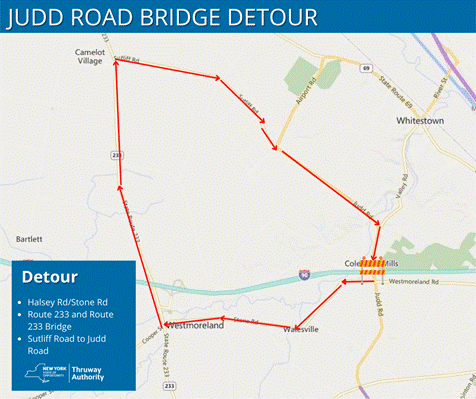 The current bridge was built in 1954 and has reached the end of its useful life. Approximately 22,000 motorists travel over the Judd Road bridge daily.
The vertical clearance on the new structure will be raised to 16'8" from its current height of 14'6" and the approaches on each end of the bridge will be reconstructed to accommodate the new bridge.
Tioga Construction Company Inc. from Herkimer, NY was awarded the contract. The project is expected to be complete in Fall 2022.
Variable Message Signs will advise motorists of the construction work and detour information. The work is weather dependent and subject to change.
Motorists may encounter lane closures on the Thruway along with traffic shifts and stoppages during construction.
Motorists are encouraged to visit www.thruway.ny.gov for real-time traffic updates.
Motorists can also download the Thruway Authority's free mobile-app and sign up for TRANSalerts for traffic information.

###
Download the NYS Thruway Authority mobile app which includes live traffic cameras, real-time, Thruway-specific traffic and navigation assistance, Thruway Service Area locator, toll calculator, roadside assistance and more. Download the free app to your iPhone and Android devices TODAY! 

Motorists can sign up for TRANSalert emails regarding Thruway traffic conditions at thruway.ny.gov. 

Follow us on Twitter @ThruwayTraffic and @NYSThruway 

Like us on Facebook at NYS Thruway Authority