For Immediate Release: 12/05/22
Contact: Office of Media Relations and Communications | (518) 471-5300 | public.info@thruway.ny.gov  
THRUWAY AUTHORITY BOARD OF DIRECTORS APPROVES PROPOSAL TO BEGIN
TOLL ADJUSTMENT PROCESS TO SUPPORT LONG TERM FISCAL STABILITY AND INFRASTRUCTURE NEEDS
Proposed Financial Plan Maintains Some of the Lowest Toll Rates in the Country
Statewide Tolls Remain Frozen System-wide through 2023
2024 Would Be First Toll Adjustment for System-wide NY E-ZPass Customers in 14 Years
Plan Preserves 40 Percent Commuter Discount and 20 Percent Resident Discount for Qualified Rockland and Westchester Residents on the Gov. Mario M. Cuomo Bridge (GMMCB)
The New York State Thruway Authority Board of Directors today authorized the start of the toll adjustment process on the New York State Thruway system. The proposed adjustments create a responsible, stable financial plan and ensure the Authority can meet its future capital and infrastructure needs. The Thruway is a user-fee supported roadway and receives no federal, state, or local tax dollars. Under this proposal, New Yorkers with a NY E-ZPass tag will continue to pay close to the lowest toll rates in the nation.
Today's vote marks the first step to proceed with a transparent public toll adjustment process that will include public hearings, receipt and consideration of public comments, and ultimately final consideration by the Thruway Authority Board of Directors within the next year.
"The Thruway Authority and its incredible team of employees work hard every day to hold the line on spending and present a balanced budget that ensures the continued viability of the system," said Thruway Authority Executive Director Matthew J. Driscoll. "As a tolling authority, we receive no federal, state or local tax dollars to support our operations. We have not seen a system-wide toll increase since 2010, and now is the time to move ahead with this financial plan so that we can meet our growing capital investment needs while continuing to provide our customers with the safe and reliable highway they've come to expect."
The Thruway Authority, supported by analysis from its independent traffic engineering consultant, has determined that there are additional revenues required for the Authority to fulfill its system-wide operating, debt service, and capital needs through the upcoming forecast period. The full report can be found here.
In 2021, Thruway Authority staff conducted a five year "Needs Assessment" that identified an additional $470 million in capital project needs that are currently not supported by the resources available for the existing 2022-2026 Capital Program. It's based on the fact that 85 percent of the Thruway's roadway base dates back to its original construction, highlighting the need for heavy maintenance, reconstruction, and rehabilitation activities to keep the riding surface in a state of good repair.
The average age of the Thruway's 815 bridges is 55 years old with 75 percent of those bridges more than 60 years old. While they are continually inspected and maintained for the safety of the traveling public, more than 85 of them have been identified for replacement within the next decade. The need to replace bridges grows exponentially after the 10-year timeline when hundreds of bridges will need to be replaced in the following decade. To highlight the magnitude of the problem, the projected replacement cost for the most immediate 85 bridges needing replacement is roughly $800 million in today's dollars. Factoring the hundreds of bridges that will require replacement not long thereafter, the costs escalate into the $6 - $7 billion range which the existing toll rate structure will not support.
First NY E-ZPass System-wide Toll Adjustment in 14 years
Cashless tolling has been in effect throughout the Thruway system for more than two years and other toll barriers on the system have been using it since 2016 (for the Gov. Mario M. Cuomo Bridge). Numerous states in the northeast and in the E-ZPass consortium are also using cashless tolling resulting in increased awareness. There are several payment options. NY E-ZPass customers are the most frequent users of the Thruway and receive the steepest discounts and highest level of convenience for payment. Non-NY E-ZPass and Tolls by Mail customers pay a differential and are much more infrequent users of the system. The differential covers additional processing costs and incentivizes customers to get a NY E-ZPass tag for the easiest and most affordable way to pay their tolls. NY E-ZPass tags are available regardless of residency in New York State.
Under this proposal, beginning on January 1, 2024, the base NY E-ZPass rate will increase by five percent outside of the Gov. Mario M. Cuomo Bridge, representing the first toll adjustment for these customers since 2010. A second five percent increase would take effect in January 2027. Standard toll rates for Non-NY E-ZPass (currently 5.1 cents per mile for passenger cars) and Tolls by Mail rates (currently 5.8 cents per mile for passenger cars) will increase to 8.6 cents per mile for both groups by 2027. These rates will remain below the current standard rates of many other systems across the nation.
Similar adjustments would be made to all rates system-wide (Gov. Mario M. Cuomo Bridge and other fixed rate tolling points) and for the Non-NY E-ZPass and Tolls by Mail commercial rates as well. This change results in toll rates that are comparable with what other cashless tolling facilities charge nationwide. For example, the Massachusetts Turnpike has an 87 percent differential and the Pennsylvania Turnpike's differential is 98 percent for Tolls by Mail passenger toll rates. More importantly, it will increase the incentive for NY E-ZPass usage. Under this plan, the differential will not be applied to NY E-ZPass customers, making it the most affordable payment option available to all of our motorists who sign up for a tag (thruway.ny.gov/getezpass ).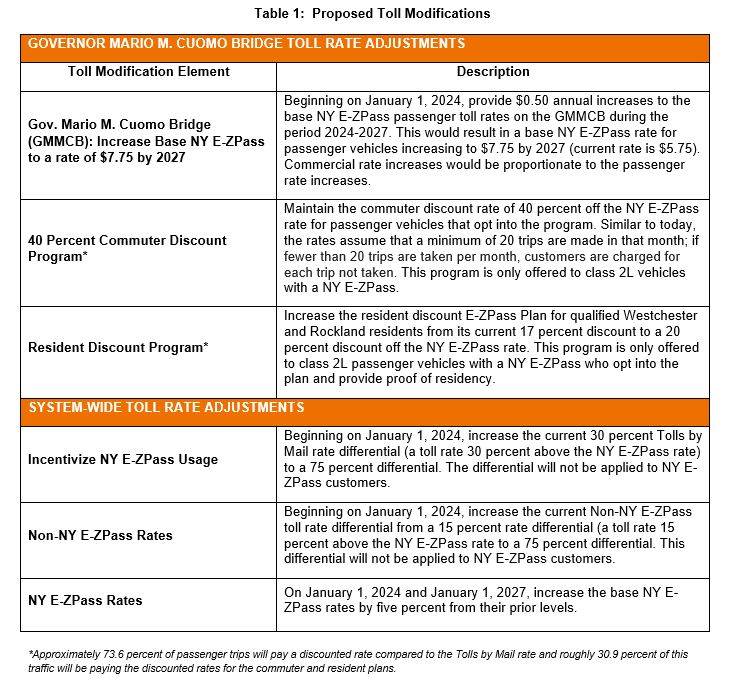 Modest Increases for the Gov. Mario M. Cuomo Bridge
Beginning on January 1, 2024, the fixed toll rate at the Gov. Mario M. Cuomo Bridge (GMMCB) for NY E-ZPass customers will increase by $0.50 each year through 2027. In 2027, the base NY E-ZPass rate for passenger vehicles will be $7.75. Commercial toll rate increases would be proportionate to the passenger rate increases.
In addition, the plan preserves the 40 percent commuter discount plan and provides a separate 20 percent resident discount (increased from the current 17 percent discount) for qualified Rockland and Westchester residents on the GMMCB. In 2021, more than 30 percent of all tolls collected on the GMMCB were discounted through commuter and resident plans.

Thruway Remains One of the Safest Highways While Maintaining Lowest Toll Rates in the Nation
While the Authority continues to maintain the highest level of safety for its motorists, this proposal will keep its toll rates among the lowest in the country compared to similar toll roads. The Thruway base passenger vehicle toll rate is less than $0.05 per mile, compared to the Ohio Turnpike ($0.06 per mile), the New Jersey Turnpike ($0.11 per mile) and the Pennsylvania Turnpike ($0.14 per mile).
In 2021, the Thruway-wide fatality rate was 0.21 fatalities per 100 million vehicle miles traveled. This compares to an index of 1.33 nationwide in 2021 and 1.02 for New York State in 2020.
Like many public and private transportation agencies, the COVID-19 pandemic had a devastating impact on Thruway toll traffic and revenues. While traffic volume has improved in 2021 and 2022, revenue has not yet reached previously forecasted levels. Throughout the pandemic, the Authority has continued to maintain its financial strength while financing the capital needs of the aging Thruway system, reprioritize and adjust Capital Program projects to continue funding the annual operating and Capital Program budgets. Prior toll adjustments were originally designed to only provide sufficient revenues to finance the 2019-2024 Capital Program.
Modernizing and Reinvesting Toll Dollars into the Thruway
Over the last decade, the Thruway Authority has made a sustained effort to modernize all facets of its 570-mile system. The new 3-mile-long Gov. Mario M. Cuomo Bridge is fully open to traffic and the shared bicycle and pedestrian path is welcoming thousands of visitors each year. In 2020, the Thruway converted to Cashless Tolling system-wide, which reduces congestion, improves safety, and reduces air pollution.
All 27 Thruway service areas are currently being redeveloped as part of a $450 million private investment plan in partnership with Empire State Thruway Partners. Three service areas have reopened: Indian Castle, Chittenango and Junius Ponds, and construction is underway at nine other locations. When the project is completed, 23 of the 27 service area buildings will be rebuilt, with significant renovations and upgrades to the remaining four. Amenities include Taste NY markets, modern restaurant concepts, outdoor seating, food trucks, playgrounds, and pet walking areas, among other things. No Thruway toll dollars or state tax dollars are being used.
About the New York State Thruway
The Thruway system is a 570-mile superhighway with 134 interchanges and 815 bridges that carry Thruway traffic, local roads and state highways over it. Thruway customers traveled approximately 7.5 billion vehicle-miles on the highway in 2021, averaging 20.5 million vehicle-miles per day. It serves a variety of travelers with different needs and purposes, including commuters, business travelers, recreational travelers, and commercial vehicle traffic that transports goods and services throughout the state. The Thruway provides a dependable roadway system for travelers sustaining and encouraging economic growth, fostering job creation, and generating tax revenues for the state and its local governments.
Any potential toll adjustments along the Thruway system are subject to the State Administrative Procedure Act (SAPA), the Public Authorities Law, and the State Environmental Quality Review Act. Public hearings will be conducted in 2023.
###