Cashless Tolling
How Does it Work?
If you have E-ZPass, your toll is collected using the same process that you are already familiar with. If you don't have E-ZPass sign-up here to start saving time and money today. E-ZPass is accepted in 16 states across the Northeast and Midwest
. Prepaid E-ZPass accounts can be purchased without waiting in line at select retail locations and MTA bridge and tunnel cash lanes.
If you don't have E-ZPass, cameras photograph your vehicle's license plate as it passes under the overhead equipment. A bill is then automatically sent to the registered owner by U.S. Mail. Visit the Tolls By Mail website
for more information.
Transportation authorities are turning to cashless tolling to reduce congestion, improve safety and reduce air pollution. More than 35 bridges, tunnels and toll roads across the nation use cashless tolling, including all MTA tunnels and bridges.
Governor Mario M. Cuomo Bridge
In 2016, motorists began paying their toll at the Governor Mario M. Cuomo Bridge (Tappan Zee) while maintaining highways speeds, making the toll plaza a thing of the past.
A temporary cashless tolling facility on the southbound New York State Thruway in South Nyack eases commutes across the Hudson River. The overhead equipment will be moved to the Westchester County side following the completion of the Governor Mario M. Cuomo Bridge (Tappan Zee).
The state-of-the-art system collects tolls at highway speeds via E-ZPass and Tolls By Mail, detecting classes of vehicles and applying the correct charge.
Grand Island Bridge
The Grand Island Bridges connect Grand Island on the Niagara Thruway (I-190) between Niagara Falls and the Town of Tonawanda. It is a main thoroughfare for commuters and visitors between the City of Buffalo and Niagara Falls. In 2016, approximately 23.7 million vehicles traveled through the Grand Island Toll Barriers, which translates to nearly 65,000 vehicles per day. In March of 2018, Grand Island will become the New York State Thruway Authority's second all cashless tolling location. The first cashless tolling gantry was implemented on the Governor Mario M. Cuomo Bridge (Tappan Zee) in 2016.
When open road, cashless tolling begins, the Thruway Authority will remove toll barriers at the North and South Grand Island Bridges. Toll barriers will be replaced with gantries that have sensors and cameras suspended over the highway. Gantries may be located in different locations than the toll barriers, however, tolling will be handled in the same manner. The sensor technology reads E-ZPass tags and takes license plate images, so vehicles no longer have to stop and pay the toll. Vehicles with E-ZPass tags are automatically charged, and vehicles without a tag have their license plate photographed. A toll bill will then be mailed to the registered owner of the vehicle.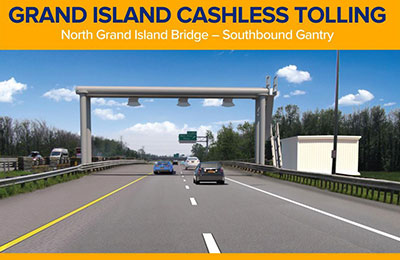 Additionally, over the last ten years, approximately 80 percent of all accidents within a tenth of a mile of the Grand Island Toll Barriers were caused by "Following Too Close" or an "Unsafe Speed." With the implementation of cashless tolling, the Thruway Authority expects accidents within these areas to be reduced.
Grand Island cashless tolling will begin construction in October and is expected to be completed by March 2018 - with projected savings for drivers reaching approximately 200 minutes per year.