For Immediate Release: 07/31/18
Contact: Office of Media Relations and Communications | (518) 471-5300 | public.info@thruway.ny.gov
TRAVELER ADVISORY: THRUWAY AUTHORITY ANNOUNCES TEMPORARY CLOSURE OF WHISKEY HILL ROAD BRIDGE IN SENECA COUNTY
$1.4 Million Project Includes Safety Improvements and Rehabilitation to the Bridge Carrying Whiskey Hill Road (County Route 107) Over the Thruway in the Town of Junius
The New York State Thruway Authority today announced the temporary closure of the Whiskey Hill Road Bridge in Seneca County beginning Wednesday, August 1, 2018. The $1.4 million project includes deck replacement of the Whiskey Hill Road (County Route 107) Bridge along with other safety related upgrades.
Originally built in the 1950s, the Whiskey Hill Road Bridge was last rehabilitated in 1994. To accommodate the deck replacement, the bridge is scheduled to be closed to all traffic during construction through the end of November.
During the scheduled closure, traffic will be detoured via State Route 318 – Stone Church Road – and Donnelly Road.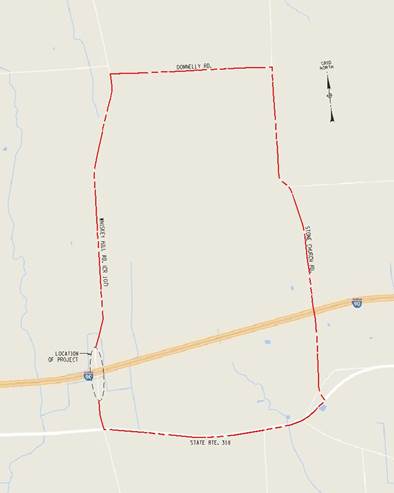 Variable Message Signs are already illuminated and will advise motorists of the bridge closure and detours. The work and closure is weather dependent and subject to change.
For up-to-date travel information, motorists are encouraged to download its mobile app which is available to download for free on iPhone and Android devices. The app provides motorists direct access to real-time traffic and navigation assistance while on the go. Travelers can also visit the Thruway Authority's interactive Traveler Map.
Motorists can also sign up for TRANSalert e-mails, which provide the latest traffic conditions along the Thruway, here. For real-time updates, motorists can follow @ThruwayTraffic on Twitter or visit www.thruway.ny.gov to see an interactive map showing traffic conditions for the Thruway and other New York State roadways.
###
Download the new NYS Thruway Authority mobile app, announced by Governor Andrew M. Cuomo. The app includes: real-time, Thruway-specific traffic and navigation assistance, Thruway Service Area locator, toll calculator, roadside assistance and more. Download the free app to your iPhone and Android devices TODAY!
Motorists can sign up for TRANSAlert emails regarding Thruway traffic conditions at http://wwwapps.thruway.ny.gov/tas/.
Follow us on Twitter @ThruwayTraffic and @NYSThruway

Like us on Facebook at NYS Thruway Authority