For Immediate Release: 07/10/18
Contact: Office of Media Relations and Communications | (518) 471-5300 | public.info@thruway.ny.gov
THRUWAY AUTHORITY ANNOUNCES ADDITIONAL ENHANCEMENTS TO TOLLS BY MAIL WEBSITE
Additions Make It Faster and Easier for Tolls By Mail Customers to Look Up and Pay Toll Bills
Improvements Support Thruway Authority's Commitment to Improve Customer Experience and To Increase Educational Outreach Related To Cashless Tolling Billing
The New York State Thruway Authority today announced additional enhancements to the Tolls By Mail website. The improvements make it faster and easier for Tolls By Mail customers to look up and pay tolls from cashless tolling facilities across New York State.
"The Thruway Authority is committed to improving the experience for Tolls By Mail customers and these enhancements will make it easier for customers to pay their tolls simply by entering basic information," said Thruway Authority Executive Director Matthew J. Driscoll. "As the Thruway transitions to cashless tolling system-wide by the end of 2020, we want to ensure the millions of motorists who will utilize this resource to pay their tolls have a website that is easy to navigate."
As part of the additional enhancements, Tolls By Mail now offers a feature where customers can search for posted tolls simply by entering basic information including license plate, state, zip code, last name, and date of travel. This option will provide customers with the toll amount due and toll plaza. Toll transactions will be available approximately one week from the date of travel.

Additionally, if customers received a toll bill, they will be able to enter their toll bill number and license plate to receive a detailed overview of toll transactions that include images, date/time of travel, toll plaza and the ability to provide an email address to receive future toll bills.
The new layout of www.TollsByMailNY.com is illustrated below: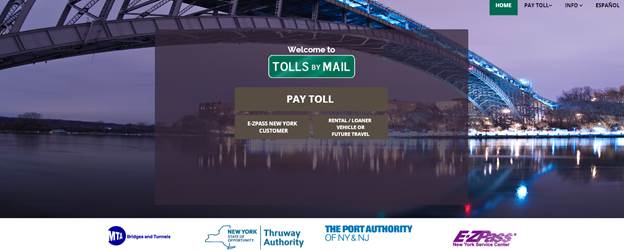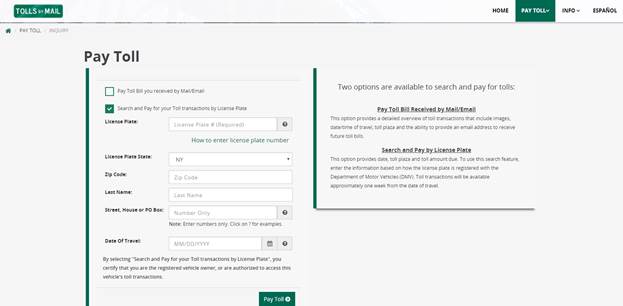 These latest enhancements support the Thruway Authority's commitment to improve customer experience and to increase educational outreach related to cashless tolling. In January 2018, Executive Director Driscoll announced a multi-pronged action plan to increase educational outreach related to cashless tolling. Since the announcement, the Thruway Authority has installed more roadway signage clearly outlining payment options to avoid late fees and penalties, improved toll bill envelopes design, increased E-ZPass educational outreach and developed E-ZPass-related public service announcements and commercials. In July 2018, a newly-designed toll bill will be introduced which includes a simplified, more comprehensive format, an additional payment option to "Scan Now" using a smartphone and how to read toll bills in multiple languages.
Customers who don't have an E-ZPass and use a cashless tolling facility in New York can pay their toll or convert to E-ZPass and save by visiting tollsbymailny.com or calling the Tolls By Mail Customer Service Center at 1-844-826-8400.
To ensure that all users of Thruway toll facilities pay their fair share, a series of enforcement measures are in place to combat toll payment evasion and chronic toll scofflaws. Customers who do not pay their tolls are subject to violation fees, registration suspensions, and other enforcement actions. For the Gov. Mario M. Cuomo Bridge and Grand Island Bridges, if the first toll bill is not paid by the customer, a $5 late fee will be imposed on the second notice. If a second notice is also ignored, violation fees of $50 per toll will be imposed. In May, the Thruway Authority announced toll violation fees at the Governor Mario M. Cuomo Bridge were reduced from $100 to $50 per trip.
New York State law requires motorists to keep their address current with the Department of Motor Vehicles to ensure bills are mailed to the proper owner. Drivers must update their address with the DMV within 10 days of moving. The New York State Department of Motor Vehicles has enacted a regulation that allows suspension of the vehicle registration of motorists with three or more unpaid tolls, violation fees and other charges resulting from violations on different days, as well as registration suspension of commercial vehicle owners with $200 or more in unpaid tolls and violation fees within a period of five years. Repeated notices are mailed to the registered owner of the vehicle before suspension.
Drivers are strongly encouraged to take advantage of the most convenient and cost- effective way to travel New York's roadways by signing up for E-ZPass. With a New York E-ZPass tag, drivers save on tolls across the state, including a five percent discount along the entire 570-mile New York State Thruway. E-ZPass tags are available for purchase in Thruway toll lanes, at many Thruway Service Areas and approximately 840 retailers across the state.
You can also sign up for E-ZPass online at www.E-ZPassNY.com.
###
Download the new NYS Thruway Authority mobile app, announced by Governor Andrew M. Cuomo. The app includes: real-time, Thruway-specific traffic and navigation assistance, Thruway Service Area locator, toll calculator, roadside assistance and more. Download the free app to your iPhone and Android devices TODAY!
Motorists can sign up for TRANSAlert emails regarding Thruway traffic conditions at http://wwwapps.thruway.ny.gov/tas/.
Follow us on Twitter @ThruwayTraffic and @NYSThruway

Like us on Facebook at NYS Thruway Authority