For Immediate Release: 02/27/18

Contact: Office of Media Relations and Communications | (518) 471-5300 | public.info@thruway.ny.gov
THRUWAY AUTHORITY ANNOUNCES E-ZPASS ON-THE-GO TAGS AVAILABLE FOR PURCHASE AT ALL CASH LANES AT GRAND ISLAND TOLL BARRIERS
Grand Island Toll Barriers Will Be Converted to All Cashless Tolling in March 2018
Drivers Can Also Purchase E-ZPass On-the-Go Tags at 26 Thruway Service Areas Across 570-Mile Superhighway and Nearly 800 Locations Across the State
Grand Island Resident and Commuter Discounts Available for E-ZPass Customers
The New York State Thruway Authority today announced E-ZPass On-the-Go tags are available for purchase at all cash lanes at the Grand Island Toll Barriers. E-ZPass On-the-Go allows busy travelers to open an E-ZPass account without filling out an application or waiting in line.
"E-ZPass saves time and money and with the expansion of Cashless Tolling in Grand Island at the end of March and system-wide by the end of 2020, we are encouraging all motorists to sign up for E-ZPass to start reaping its benefits," Thruway Authority Acting Executive Director Matthew J. Driscoll said. "This is a great opportunity for drivers to purchase an E-ZPass, the most-convenient method of paying tolls, without leaving their car."
Motorists can pick up an E-ZPass On-the-Go tag in the cash lanes of the Grand Island Toll Barriers for $25 (cash only), plus the cash toll for that trip. Customers must then register the tag online or by calling 1-800-697-1554. The $25 is credited in full to the customer's account to be used on future tolls and the tag becomes active in 24 hours.
Cash lanes where E-ZPass On-the-Go tags can be purchased will be marked with the following sign: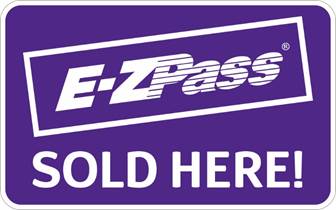 Additionally, E-ZPass On-the-Go tags can now be purchased at 26 Thruway Service Areas across its 570-mile system which spans from New York City to Buffalo and the Pennsylvania border and nearly 800 locations across the state including select grocery and convenience stores, and government offices.
In 2017, more than 266.5 million motorists traveled the New York State Thruway, an increase of 6.8 million drivers over 2016. E-ZPass transactions accounted for more than 74 percent of toll transactions, a two percent increase from 2016.
E-ZPass is accepted in 16 states nationwide including New York. Anyone, regardless of state residency, can sign up for a New York E-ZPass and enjoy discounts and flexible payment options available to customers.
Along with a five percent discount along the entire Thruway system, E-ZPass offers a variety of discount plans and payment options to fit the needs of every motorist. Discount plans include the Grand Island Commuter Plan and other commuter discounts which can save motorists hundreds of dollars each year. To learn how much you can save, use the Thruway's Annual Permit Comparison Calculator.
Customers can sign up for E-ZPass discount plans such as Pay Per Trip, which is linked to a bank account, not a credit card, and pays tolls incurred once per day and a prepaid E-ZPass account balance is not required.
Customers can also pay their account by credit card, bank account, check or money order.

Sign up for a Thruway E-ZPass account visit www.e-zpassny.com.
###
Download the new NYS Thruway Authority mobile app, announced by Governor Andrew M. Cuomo. The app includes: real-time, Thruway-specific traffic and navigation assistance, Thruway Service Area locator, toll calculator, roadside assistance and more. Download the free app to your iPhone and Android devices TODAY!
Motorists can sign up for TRANSAlert emails regarding Thruway traffic conditions at http://wwwapps.thruway.ny.gov/tas/.
Follow us on Twitter @ThruwayTraffic and @NYSThruway

Like us on Facebook at NYS Thruway Authority
Thruway travelers are encouraged to visit www.Thruway.ny.gov for real-time traffic updates.
To see an interactive map including Google traffic conditions for the Thruway and other roadways in New York State and beyond, go to:
http://www.thruway.ny.gov/travelers/map/index.html?layer=traffic. 
Thruway Highway Advisory Radio (HAR) stations broadcast traffic advisories, road conditions, and safety tips 24-hours-a-day. HAR frequencies can be found at http://www.thruway.ny.gov/travelers/har/index.html.