For Immediate Release: 10/18/17
Contact: Office of Media Relations and Communications | (518) 471-5300 | public.info@thruway.ny.gov
THRUWAY AUTHORITY, NYS DEPARTMENT OF TRANSPORTATION AND TRUCKING ASSOCIATION OF NEW YORK
COMMEMORATE 'OPERATION SAFE DRIVER WEEK' BY EDUCATING MOTORISTS OF BLIND SPOTS AROUND TRACTOR TRAILERS
Media Advisory: As Part of the Trucking Association's "Share the Road" Program, "Safety Breaks" Will Take Place Thursday, October 19, from 10 a.m. – 2 p.m. at Six Service Areas Across the State
Thruway Authority and NYSDOT Employees, State Police, and Trucking Association of New York Representatives Will Hand Out Literature and Giveaways to Reinforce "No Zone" Message
The New York State Thruway Authority, New York State Department of Transportation (NYSDOT) and the Trucking Association of New York today announced "Safety Breaks" as part of the Trucking Association's Share the Road program to educate the general motoring public about the blind spots around large commercial trucks. The "Safety Breaks" coincide with the Commercial Vehicle Safety Alliance's "Operation Safe Driver Week."
"Speeding and reckless driving puts everyone on the road at risk," said Thruway Authority Acting Executive Director Matthew J. Driscoll. "Just like you and all of our employees, the hardworking men and women behind the wheel of tractor trailers want to get home safely to their families at the end of their trips and we ask motorists to use caution while around them to ensure their safety."
Tractor trailers have blind spots significantly greater than those of passenger vehicles. In order to educate the general motoring public about the blind spots around tractor trailers, the Thruway Authority, NYSDOT and the Trucking Association of New York will be holding six "Safety Breaks" on Thursday, October 19, from 10:00 a.m. to 2:00 p.m. at various Service Areas along the New York State Thruway and I-87 Northway.
Thruway Authority and Department of Transportation employees, professional drivers, volunteers, and New York State Police will be present at each site, helping visitors get in and out of a tractor trailer so they can see first-hand what the driver of a large vehicle can and can't see.

The Safety Breaks will be taking place at the following locations:
Plattekill Service Area (I-87 northbound between exit 17 (Newburgh I-84) & exit 18 (New Paltz)
New Baltimore Service Area (I-87 northbound & southbound between exit 21B (Coxsackie) & exit 21A (Berkshire Section/to Mass Pike)
DeWitt Service Area (I-90 eastbound between exit 36 (Syracuse I-81) & exit 35 (Syracuse East)
Scottsville Service Area (I-90 eastbound between exit 47 (Leroy) & exit 46 (Rochester)
Clarence Service Area (I-90 westbound between exit 48A (Pembroke) & exit 49 (Depew)
Clifton Park Rest Area (Northbound on I-87 (Adirondack Northway) between exits 9 and 10)
New York State Department of Transportation Acting Commissioner Cathy Calhoun said, "Safety is our top priority and Governor Cuomo's investment in roads and bridges across New York State has allowed us to improve safety and enhance traffic flow in ways that benefit both truck drivers and motorists. But true highway safety involves all road users and it is imperative that motorists know and avoid driving in the blind spots of tractor trailers to avoid potentially fatal crashes."
Literature and giveaways will be available at each Safety Break location to reinforce the blind spot or "No-Zone" message.
New York State Police and the Trucking Association of New York offer the following tips/guidelines for motorists:
Use caution when passing all tractor trailers.
If you can't see them in their mirrors, they can't see you.
Don't cut in front of a truck.
Pass quickly to resume visibility and change lanes only when you can see both of the truck's headlights in your rearview mirror.
Never pass on the right.
Allow trucks adequate space to maneuver.
Additionally, there are four large blind spots around trucks where cars "disappear" from view and the driver can't see you.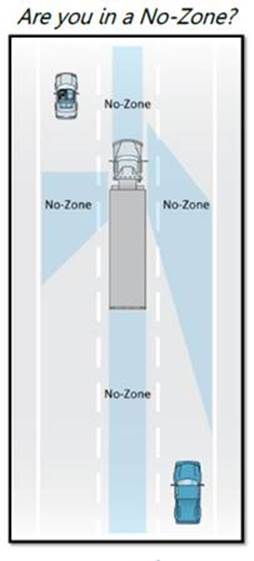 New York State Police Troop T Major Douglas R. Keyer Jr. said, "During "Safety Breaks", the main focus is to raise driver awareness about the dangers faced when passing or encountering a tractor trailer traveling on the roadway. Troopers will be out in full force, highly visible, and will be strictly enforcing the rules of the road. The New York State Police are tirelessly committed to keeping our highways safe for all motorists."
Trucking Association of New York President Kendra L. Hems said, "There is no better time than during "Operation Safe Driver Week" to educate motorists on the unique operating characteristics of large vehicles, particularly regarding their large blind spots. The Trucking Association of New York is proud to partner with the NYS Thruway Authority to bring the "Share the Road" program to Service Areas along the Thruway to speak with motorists about driving safely around large trucks and buses. By working together, we can ensure the safety of all motorists on New York's highways."
In 2016, approximately 28.5 million commercial trucks traveled the Thruway's 570-mile system.
###
Motorists can sign up for TRANSAlert emails regarding Thruway traffic conditions at https://wwwapps.thruway.ny.gov/tas/.
Follow us on Twitter @ThruwayTraffic and @NYSThruway

Like us on Facebook at NYS Thruway Authority
Follow New York State DOT on Twitter: @NYSDOT and on Facebook: facebook.com/NYSDOT.
Thruway travelers are encouraged to visit www.thruway.ny.gov for real-time traffic updates.

To see an interactive map including Google traffic conditions for the Thruway and other roadways in New York State and beyond, go to:
http://www.thruway.ny.gov/travelers/map/index.html?layer=traffic
Thruway Highway Advisory Radio (HAR) stations broadcast traffic advisories, road conditions, and safety tips 24-hours-a-day. HAR frequencies can be found at http://www.thruway.ny.gov/travelers/har/index.html