For Immediate Release: 8/25/2016
Contact: Khurram Saeed | Khurram.Saeed@newnybridge.com
Office of Media Relations and Communications | (914) 524-5444
THRUWAY AUTHORITY ANNOUNCES OVERNIGHT ON-RAMP CLOSURE AT EXIT 9 TO NORTHBOUND I-87/I-287 IN WESTCHESTER COUNTY
Ramp Closure Scheduled for 8 p.m., Thursday, Aug. 25, to 5 a.m. Tomorrow and 8 p.m., Friday, Aug. 26, to 5 a.m. Saturday, Aug. 27
Overnight Triple Lane Closure on Northbound Thruway from Exit 8A to Tappan Zee Bridge from 11 p.m. Tonight to 7 a.m. Friday and 11 p.m. Friday to 7 a.m. Saturday
The Thruway Authority today announced drainage work for the New NY Bridge project will require an overnight on-ramp closure at exit 9 (Tarrytown - Sleepy Hollow - US Route 9) to the northbound New York State Thruway (I-87/I-287) starting at 8 p.m. tonight, Aug. 25, until 5 a.m. tomorrow, and between 8 p.m. Friday, Aug. 26, to 5 a.m. Saturday, Aug. 27.
Drivers will be detoured approximately one mile east on Route 119 to access the northbound Thruway (I-87/I-287).
Three northbound lanes from Exit 8A (Elmsford - NY Route 119 - Saw Mill River Parkway North) to the Tappan Zee Bridge will be closed to traffic after 11 p.m. Thursday and Friday to accommodate the drainage work. All lanes will be open at 7 a.m. the following morning.
One northbound lane will be open to traffic, and drivers can continue to use exit 9 to exit the northbound Thruway (I-87/I-287) to Route 119. All southbound lanes will remain open.
The work is weather dependent and subject to change.
The Thruway Authority thanks motorists for their patience while this essential work is completed.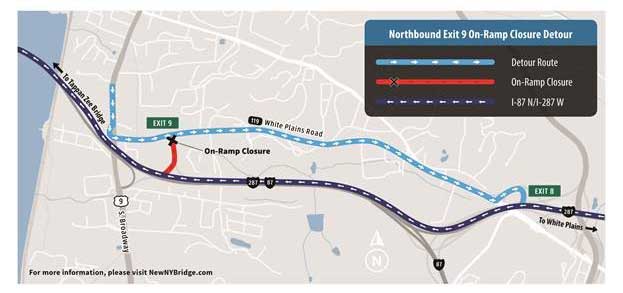 ###
Motorists can sign up for TRANSAlert emails regarding Thruway traffic conditions at https://wwwapps.thruway.ny.gov/tas/.
Follow us on Twitter @ThruwayTraffic and @NYSThruway
Like us on Facebook at NYS Thruway Authority
Thruway travelers are encouraged to visit www.thruway.ny.gov for real-time traffic updates.
To see an interactive map including Google traffic conditions for the Thruway and other roadways in New York State and beyond, go to:
http://www.thruway.ny.gov/travelers/map/index.html?layer=traffic
Thruway Highway Advisory Radio (HAR) stations broadcast traffic advisories, road conditions, and safety tips 24-hours-a-day. HAR frequencies can be found at http://www.thruway.ny.gov/travelers/har/index.html