For Immediate Release: 4/1/2016
Contact: Emma Lasch | emma.lasch@thruway.ny.gov
Office of Media Relations and Communications | (518) 471-5300
THRUWAY AUTHORITY ANNOUNCES $4 MILLION PROJECT TO REPLACE SAWKILL ROAD BRIDGE IN ULSTER COUNTY
Bridge to Close on Monday, April 4 and Remain Closed Until Fall 2016
The Thruway Authority today announced that the Sawkill Road bridge over I-87 in the town of Ulster is scheduled to be replaced beginning on Monday, April 4. Contractors will close the bridge that morning and construction will commence to replace the existing bridge. It is expected to reopen in the fall of 2016.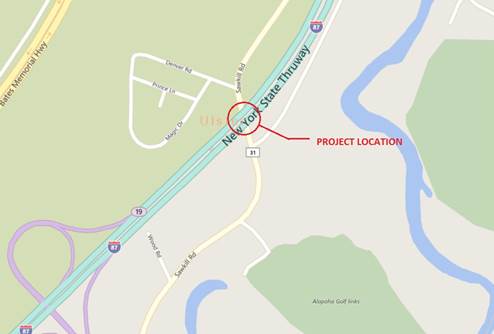 Scheduled work will incorporate a full replacement of the existing structure; including but not limited to, new abutments, pier, superstructure, and approach pavement. Motorists are advised to follow the posted detour during this construction period.
The Thruway Authority appreciates motorists' patience during this scheduled work.
###
Motorists can sign up for TRANSAlert emails regarding Thruway traffic conditions at http://wwwapps.thruway.ny.gov/tas/.
Follow us on Twitter @ThruwayTraffic and @NYSThruway

Like us on Facebook at NYS Thruway Authority
Thruway travelers are encouraged to visit www.Thruway.ny.gov for real-time traffic updates.
To see an interactive map including Google traffic conditions for the Thruway and other roadways in New York State and beyond, go to:
http://www.thruway.ny.gov/travelers/map/index.html?layer=traffic. 
Thruway Highway Advisory Radio (HAR) stations broadcast traffic advisories, road conditions, and safety tips 24-hours-a-day. HAR frequencies can be found at http://www.thruway.ny.gov/travelers/har/index.html.