For Immediate Release: 3/11/2016
Contact: Richard Keane | richard.keane@thruway.ny.gov
Office of Media Relations and Communications | (716) 635-6212
THRUWAY AUTHORITY ANNOUNCES CONSTRUCTION ON I-290 EASTBOUND RAMP TO I-90 EASTBOUND
Detour will be in Place for Motorists until Summer 2016
The Thruway Authority today announced bridge deck work on the I-290 eastbound ramp to I-90 eastbound in Amherst beginning on Monday, March 14 at 9 a.m. A detour will be in place until summer 2016.
All traffic seeking to access I-90 eastbound from I-290 eastbound will be detoured into a single lane onto Wehrle Drive, and then back onto the ramp, before entering the Thruway (I-90) eastbound. The work zone speed limit on the ramp will be 35 miles per hour.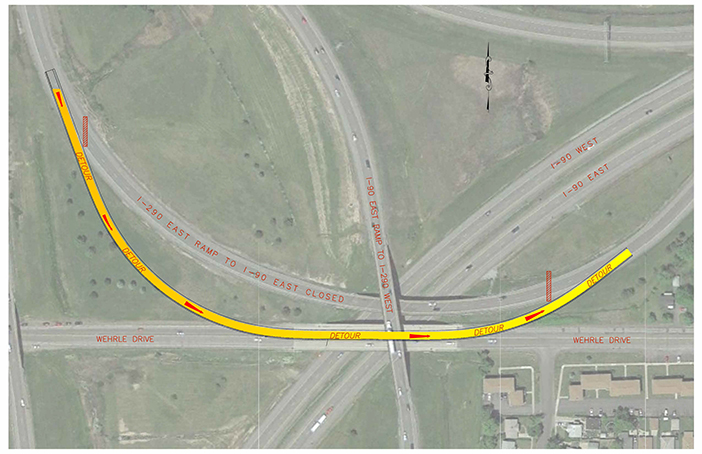 The project will be completed in accordance with the requirements of Governor Cuomo's Driver's First Initiative, which prioritizes the convenience of motorists and ensures that disruptions are kept at a minimum for drivers at highway and bridge projects across the state.
The Thruway appreciates motorist's patience during this scheduled work.
###
Motorists can sign up for TRANSAlert emails regarding Thruway traffic conditions at http://wwwapps.thruway.ny.gov/tas/.
Follow us on Twitter @ThruwayTraffic and @NYSThruway

Like us on Facebook at NYS Thruway Authority
Thruway travelers are encouraged to visit www.Thruway.ny.gov for real-time traffic updates.
To see an interactive map including Google traffic conditions for the Thruway and other roadways in New York State and beyond, go to:
http://www.thruway.ny.gov/travelers/map/index.html?layer=traffic. 
Thruway Highway Advisory Radio (HAR) stations broadcast traffic advisories, road conditions, and safety tips 24-hours-a-day. HAR frequencies can be found at http://www.thruway.ny.gov/travelers/har/index.html.